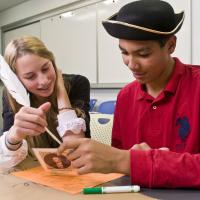 Classes & Training
This session is for
Students
Battle for the Bill of Rights
Through role-play and debate, students learn about Federalists, Antifederalists and the creation of the Bill of Rights.
What you'll learn
Go back in time and relive the debate over whether basic freedoms should be included in the Constitution of our new country. Students take on the roles – hats, wigs and mannerisms – of Federalists and Antifederalists and make their 18th century arguments for and against a bill of rights. Role-playing and slogan writing give students an understanding of the history and importance of our First Amendment freedoms.
Day(s) offered
Monday–Friday
Time(s) offered
9 a.m.–4 p.m. ET
Minimum enrollment
12 participants
Enrollment type
Registration required
Classes must be requested at least one week in advance. Please be advised that your preferred date may not be available, so have at least two dates in mind. We recommend arriving at the Newseum at least 15 minutes before your scheduled class time.
Groups larger than class capacity will be assigned staggered class times based on your group's window of availability. We appreciate hands-on assistance from chaperones when needed.
When a school fails to appear for its scheduled Newseum class, it prevents other schools from using that slot. Please notify us at least one week in advance if you must cancel your reservation.
Assistance (e.g. ASL interpretation, assistive listening, description) for programs/tours can be arranged with at least seven business days' notice. Please contact AccessUs at AccessUs@newseum.org or by calling 202/292-6453.
Common Core State Standards: CCSS.ELA-LITERACY.CCRA.SL.1

Prepare for and participate effectively in a range of conversations and collaborations with diverse partners, building on others' ideas and expressing their own clearly and persuasively.

Common Core State Standards: CCSS.ELA-LITERACY.CCRA.SL.5

Make strategic use of digital media and visual displays of data to express information and enhance understanding of presentations.
NCSS C3 Framework: D4.1.6-8 and D4.1.9-12

6 - 8: Construct arguments using claims and evidence from multiple sources, while acknowledging the strengths and limitations of the arguments. 9 - 12: Construct arguments using precise and knowledgeable claims, with evidence from multiple sources, while acknowledging counterclaims and evidentiary weaknesses.
ISTE: 6d. Creative Communicator

Students publish or present content that customizes the message and medium for their intended audiences.
National Center for History in the Schools: NCHS.Historical Thinking.3

A. Compare and contrast differing sets of ideas. B. Consider multiple perspectives. C. Analyze cause-and-effect relationships and multiple causation, including the importance of the individual, the influence of ideas. D. Draw comparisons across eras and regions in order to define enduring issues. E. Distinguish between unsupported expressions of opinion and informed hypotheses grounded in historical evidence. F. Compare competing historical narratives. G. Challenge arguments of historical inevitability. H. Hold interpretations of history as tentative. I. Evaluate major debates among historians. J. Hypothesize the influence of the past.

National Center for History in the Schools: NCHS.US History.Era 3

Standard 1: The causes of the American Revolution, the ideas and interests involved in forging the revolutionary movement, and the reasons for the American victory Standard 2: The impact of the American Revolution on politics, economy, and society Standard 3: The institutions and practices of government created during the Revolution and how they were revised between 1787 and 1815 to create the foundation of the American political system based on the U.S. Constitution and the Bill of Rights
National Council of Teachers of English: NCTE.12

Students use spoken, written, and visual language to accomplish their own purposes (e.g., for learning, enjoyment, persuasion, and the exchange of information).
NCSS Curriculum Standards: NCSS 2

Learners examine the institutions, values and beliefs of people in the past, acquire skills in historical inquiry and interpretation, and gain an understanding of how important historical events and developments have shaped the modern world.
Quick View
Share
Contains Copyrighted Material (requires
an account
)