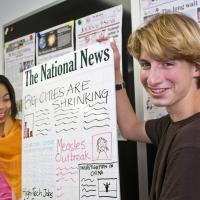 Classes & Training
This session is for
Students
Choose the News
Students learn how a newspaper's front page or website reflects the interests and values of the community, then work in teams to create their own front page or homepage.
What you'll learn
Go behind the scenes to discover how editors decide what stories will get top billing on their front page or news website. Students learn what makes a story "newsworthy" and how news coverage may vary depending on the audience and the community. Students then apply these media literacy skills by working in teams to make editorial decisions and to design their own front page or homepage.
Day(s) offered
Monday–Friday
Time(s) offered
9 a.m.-4 p.m. ET
Venue and Capacity
Learning Center (max 30)
Virtual (no limit)
Minimum enrollment
12 participants
Enrollment type
Registration required
Classes must be requested at least one week in advance. Please be advised that your preferred date may not be available, so have at least two dates in mind. We recommend arriving at the Newseum at least 15 minutes before your scheduled class time.  
Virtual classes: Virtual classes must be requested at least two weeks in advance. To request a free virtual class, please complete the virtual request form. All reservations are tentative pending confirmation of hardware and software capabilities.
When a school fails to appear for its scheduled Newseum class, it prevents other schools from using that slot. Please notify us at least one week in advance if you must cancel your reservation.
Assistance (e.g. ASL interpretation, assistive listening, description) for programs/tours can be arranged with at least seven business days' notice. Please contact AccessUs at AccessUs@newseum.org or by calling 202/292-6453.
Common Core State Standards: CCSS.ELA-LITERACY.CCRA.L.6

Acquire and use accurately a range of general academic and domain-specific words and phrases sufficient for reading, writing, speaking, and listening at the college and career readiness level; demonstrate independence in gathering vocabulary knowledge when encountering an unknown term important to comprehension or expression.
ISTE: 6d. Creative Communicator

Students publish or present content that customizes the message and medium for their intended audiences.
National Council of Teachers of English: NCTE.4

Students adjust their use of spoken, written, and visual language (e.g., conventions, style, vocabulary) to communicate effectively with a variety of audiences and for different purposes.

National Council of Teachers of English: NCTE.12

Students use spoken, written, and visual language to accomplish their own purposes (e.g., for learning, enjoyment, persuasion, and the exchange of information).
Quick View
Share
Contains Copyrighted Material (requires
an account
)