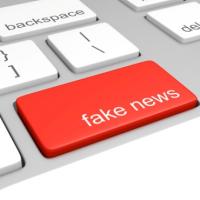 Classes & Training
This session is for
Educators
Fighting Fake News — Educator Workshop
Arm your students with the skills they need to strike a balance between cynic and sucker as they navigate a media landscape where real and fake sometimes look all too similar.
What you'll learn
In "Fighting Fake News: How to Help Your Students Outsmart Trolls and Troublemakers," teachers will learn a practical approach to helping students avoid one of the major pitfalls of today's digital media: falling for fake information. They will examine real-life case studies that bring to life the challenges of today's media landscape and model an easy-to-remember and easy-to-implement strategy for staying a step ahead. Throughout the session, discussion and activities will explore best practices for meeting their students' need for enhanced media savvy in the academic realm and their daily lives.
This workshop includes an interactive lesson with a Newseum educator, teaching strategies and resources. 
Day(s) offered
Monday-Friday
Time(s) offered
9 a.m.–3 p.m. ET
Minimum enrollment
12 participants
Enrollment type
Registration required
This workshop is for groups of at least 12 people. For more details on options or customizations (extra fee), please call the education reservation line at 202/292-6650 or write to educationprograms@freedomforum.org. Workshops must be requested at least one week in advance. We recommend arriving at the Newseum at least 15 minutes before your scheduled workshop time.
Newseum Education has a limited number of laptops on-site for educators to use during this session. We recommend your group have at least one device (laptop, tablet or smartphone) for every three participants.
If you need to reschedule or cancel your workshop, please contact the Education Department at 202/292-6650 OR write to educationprograms@freedomforum.org at least a week before the date of your scheduled workshop. All ticket sales are final. There are no refunds for no shows or unused tickets.
Assistance (e.g. ASL interpretation, assistive listening, description) for programs/tours can be arranged with at least seven business days' notice. Please contact AccessUs at AccessUs@newseum.org or by calling 202/292-6453.
Common Core State Standards: CCSS.ELA-LITERACY.CCRA.SL.2

Integrate and evaluate information presented in diverse media and formats, including visually, quantitatively, and orally.
ISTE: 3b. Knowledge Constructor

Students evaluate the accuracy, perspective, credibility and relevance of information, media, data or other resources.
Quick View
Share
Contains Copyrighted Material (requires
an account
)