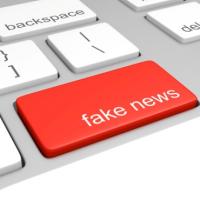 Classes & Training
This session is for
Students
Fighting Fake News: How to Outsmart Trolls and Troublemakers
Can you navigate the flurry of fake news and strike a balance between being a cynic and a sucker? Get the tools you need to stay ahead of online tricksters and trolls.
What you'll learn
In this class, students dive into the complexity of digital citizenship, including the threat of falling for fake information. They'll examine case studies that bring to life the challenges of today's media landscape and leave with an easy-to-remember and easy-to-implement strategy for staying a step ahead. Explore: What qualifies as "fake" news? Why should you care what's real and what's not? How can the motivations behind news stories shape the content?
Day(s) offered
Monday through Friday
Time(s) offered
9 a.m.-4 p.m. ET
Venue and Capacity
We also can present this class 
in your community. Contact us for more details: 202/292-6650 or [email protected].
Minimum enrollment
10 participants
Enrollment type
Registration required
Virtual classes must be requested at least two weeks in advance. To request a free virtual class, please complete the request form. All reservations are tentative pending confirmation of hardware and software capabilities. Please call the Education Department at 202/292-6650 for more information.
Please notify us at least one week in advance if you must cancel your reservation.
ISTE: 3b. Knowledge Constructor

Students evaluate the accuracy, perspective, credibility and relevance of information, media, data or other resources.
Quick View
Share
Contains Copyrighted Material (requires
an account
)