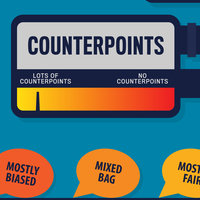 Classes & Training
This session is for
Students
Is It Fair? Evaluate Your Media
Are accusations of bias clogging your news feed? Are your students quick to point out that something's unfair — but not as ready to explain why? Tune up your "fairness meter" to assess how objective or biased content really is.
What you'll learn
In this class, students take a step back from the media negativity to look at the positive: what are the qualities of fair news coverage? They'll learn how to assess word choice, use of context and counterpoints to make informed, impartial evaluations of the news they encounter in print, online and on social media. Practice with real-world examples ensures they leave ready to tune into content and tune out the chaos. 
Day(s) offered
Monday through Friday
Time(s) offered
9 a.m.-4 p.m. ET
Venue and Capacity
We also can present this class 
in your community. Contact us for more details: 202/292-6650 or [email protected].
Minimum enrollment
10 participants
Enrollment type
Registration required
Virtual classes must be requested at least two weeks in advance. To request a free virtual class, please complete the request form. All reservations are tentative pending confirmation of hardware and software capabilities. Please call the Education Department at 202/292-6650 for more information.
Please notify us at least one week in advance if you must cancel your reservation.
Common Core State Standards: CCSS.ELA-LITERACY.CCRA.R.7

Integrate and evaluate content presented in diverse media and formats, including visually and quantitatively, as well as in words.
ISTE: 2. Digital Citizen

Students engage in positive, safe, legal and ethical behavior when using technology.

ISTE: 3b. Knowledge Constructor

Students evaluate the accuracy, perspective, credibility and relevance of information, media, data or other resources.

ISTE: 3d. Knowledge Constructor

Students build knowledge by actively exploring real-world issues and problems.
National Council of Teachers of English: NCTE.12

Students use spoken, written, and visual language to accomplish their own purposes (e.g., for learning, enjoyment, persuasion, and the exchange of information).
NCSS Curriculum Standards: NCSS 8

An understanding or science and technology in their social contexts allows learners to questions and analyze the impact of science and technology on society.
Quick View
Share
Contains Copyrighted Material (requires
an account
)