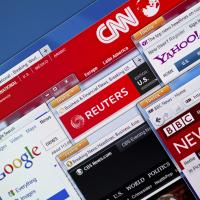 Classes & Training
This session is for
Educators
Judging Fact, Fiction and Everything In-Between: Teaching Media Literacy
This broad overview of media literacy focuses on easy-to-use tools and techniques for deconstructing information in a variety of media, from historic newsreels to histrionic websites.
What you'll learn
Is Wikipedia reliable? How do you distinguish fact from rumor? What news source is trustworthy? From social media posts to "citizen journalist" reports to traditional news media, today's students face questions about the origins, reliability and attribution of information everywhere they turn. As digital natives who've been online their whole lives, they have a unique perspective on these issues, but they still need guidance to ask the right questions and find the answers. This broad introduction to media literacy provides a set of easy-to-use tools teachers can share with their students to deconstruct the information they encounter online, in print, on social media or on TV. Participants will model specific strategies and resources they can bring to their classroom to foster increased media literacy across subject matters, with special attention to developing research skills.
This workshop includes an interactive lesson with a Newseum educator, teaching strategies and resources, and a gallery exploration guide. 
Day(s) offered
Monday–Friday
Time(s) offered
9 a.m.–3 p.m. ET
Venue and Capacity
We also can present this class 
in your community. Contact us for more details: 202/292-6650 or educationprograms@freedomforum.org.
Minimum enrollment
12 participants
Enrollment type
Registration required
This workshop is for groups of at least 12 people. For more details on options or customizations (extra fee), please call the education reservation line at 202/292-6650 or write to educationprograms@freedomforum.org. Workshops must be requested at least one week in advance. We recommend arriving at the Newseum at least 15 minutes before your scheduled workshop time.
If you need to reschedule or cancel your workshop, please contact the Education Department at 202/292-6650 OR write to educationprograms@freedomforum.org before the date of your scheduled visit. All ticket sales are final. There are no refunds for no shows or unused tickets.
Assistance (e.g. ASL interpretation, assistive listening, description) for programs/tours can be arranged with at least seven business days' notice. Please contact AccessUs at AccessUs@newseum.org or by calling 202/292-6453.
Quick View
Share
Contains Copyrighted Material (requires
an account
)