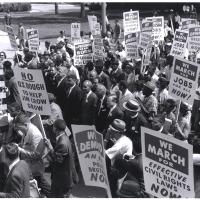 Classes & Training
This session is for
Students
Making a Change: The First Amendment & the Civil Rights Movement
Students watch and discuss a Newseum-produced documentary about the role of the First Amendment freedoms in the civil rights movement and in protests today.
What you'll learn
How did civil rights activists use their individual freedoms (speech, press, religion, assembly and petition) to demand change? How did Martin Luther King Jr. harness the power of the news media? Students learn about this important chapter in U.S. history and how the First Amendment was used as a vehicle for social change. A documentary based on primary sources looks at key dates in the movement and the media's role in covering the push for equality.    
Day(s) offered
Monday–Friday
Time(s) offered
9 a.m.–4 p.m. ET
Minimum enrollment
10 participants
Enrollment type
Registration required
Virtual classes must be requested at least two weeks in advance. To request a free virtual class, please complete the request form. All reservations are tentative pending confirmation of hardware and software capabilities. Please call the Education Department at 202/292-6650 for more information.
Please notify us at least one week in advance if you must cancel your reservation.
ISTE: 3b. Knowledge Constructor

Students evaluate the accuracy, perspective, credibility and relevance of information, media, data or other resources.
NCSS Curriculum Standards: NCSS 2

Learners examine the institutions, values and beliefs of people in the past, acquire skills in historical inquiry and interpretation, and gain an understanding of how important historical events and developments have shaped the modern world.
Quick View
Share
Contains Copyrighted Material (requires
an account
)