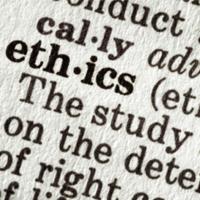 Classes & Training
This session is for
Educators
Media Ethics — Educator Workshop
Learn about the principles of ethical journalism — and how to teach them to your students — in this case-study-based professional development workshop.
What you'll learn
The press may be free, but is it a free-for-all? Is it ever OK to clean up a quote or digitally manipulate a photograph? This professional development workshop teaches educators the key principles of ethical journalism. Using real-life case studies, participants debate how to apply these standards, experiencing the decision-making process that goes on behind-the-scenes in journalism. They receive tools and strategies that will allow them to take these topics back to their students, helping them become more informed media consumers.
This workshop includes an interactive lesson with a Newseum educator, teaching strategies and resources, and a gallery exploration guide. 
Day(s) offered
Monday–Friday
Time(s) offered
9 a.m.–3 p.m. ET
Venue and Capacity
Learning Center (max 36)
Your location
We also can present this class 
in your community. Contact us for more details: 202/292-6650 or educationprograms@freedomforum.org.
Minimum enrollment
12 participants
Enrollment type
Registration required
This workshop is for groups of at least 12 people. For more details on options or customizations (extra fee), please call the education reservation line at 202/292-6650 or write to educationprograms@freedomforum.org. Workshops must be requested at least one week in advance. We recommend arriving at the Newseum at least 15 minutes before your scheduled workshop time.
If you need to reschedule or cancel your workshop, please contact the Education Department at 202/292-6650 OR write to educationprograms@freedomforum.org at least a week before the date of your scheduled workshop. All ticket sales are final. There are no refunds for no shows or unused tickets.
Assistance (e.g. ASL interpretation, assistive listening, description) for programs/tours can be arranged with at least seven business days' notice. Please contact AccessUs at AccessUs@newseum.org or by calling 202/292-6453.
Quick View
Share
Contains Copyrighted Material (requires
an account
)