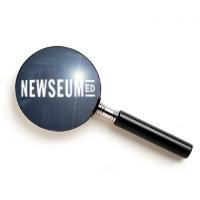 Classes & Training
This session is for
Educators
Navigating NewseumED
In this hands-on introduction to our website, you'll learn how to find primary sources, videos, lessons and interactives to support your learning objectives in the classroom.
What you'll learn
Learn how to navigate NewseumED.org, our online repository for all of our free resources for teachers and students. In this 30-minute session, we'll cover how to:
Find lesson plans, activities and videos by grade, topic and more.
Filter and share hi-res primary sources with your students.
Navigate our thematic EDCollections.
Manipulate our interactive timelines and maps.
Day(s) offered
Monday–Friday
Time(s) offered
9 a.m.–4 p.m. ET
Venue and Capacity
Learning Center (max 36)
Virtual (no limit)
Your location
We also can present this class 
in your community. Contact us for more details: 202/292-6650 or educationprograms@freedomforum.org.
Minimum enrollment
12 participants
Enrollment type
Registration required
Classes at the Newseum: This workshop is for groups of at least 12 educators. Workshops must be requested at least one week in advance. We recommend arriving at the Newseum at least 15 minutes before your scheduled workshop time.
Newseum Education has a limited number of laptops on-site for educators to use during this session. We recommend your group has at least one device (laptop, tablet or smartphone) for every three participants.
Virtual classes: Virtual classes must be requested at least two weeks in advance. To request a free virtual class, please complete the virtual request form. All reservations are tentative pending confirmation of hardware and software capabilities. 
Please notify us at least one week in advance if you must cancel your reservation.
Assistance (e.g. ASL interpretation, assistive listening, description) for programs/tours can be arranged with at least seven business days' notice. Please contact AccessUs at AccessUs@newseum.org or by calling 202/292-6453.
Quick View
Share
Contains Copyrighted Material (requires
an account
)