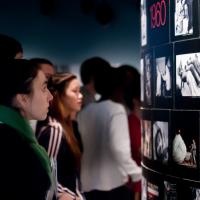 Classes & Training
This session is for
Students
Photo Ethics
Students become more critical consumers of visual information by examining real-life case studies of photojournalists striving to be accurate, fair and clear.
What you'll learn
Is it OK to manipulate images or publish photos of dead bodies? Similar to our  Media Ethics class, but with an emphasis on images, this class covers the power of photographs and the responsibilities of a photojournalist. Real-life case studies help students tackle the decision-making process in deciding what's the right thing to do. Ethical dilemmas include digital manipulation, privacy and minimizing harm.
Day(s) offered
Monday-Friday
Time(s) offered
9 a.m.-4 p.m. ET
Minimum enrollment
10 participants
Enrollment type
Registration required
Virtual classes must be requested at least two weeks in advance. To request a free virtual class, please complete the virtual request form. All reservations are tentative pending confirmation of hardware and software capabilities.
Please notify us at least one week in advance if you must cancel your reservation.
Common Core State Standards: CCSS.ELA-LITERACY.CCRA.SL.1

Prepare for and participate effectively in a range of conversations and collaborations with diverse partners, building on others' ideas and expressing their own clearly and persuasively.

Common Core State Standards: CCSS.ELA-LITERACY.CCRA.SL.2

Integrate and evaluate information presented in diverse media and formats, including visually, quantitatively, and orally.
Quick View
Share
Contains Copyrighted Material (requires
an account
)