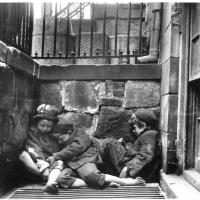 Classes & Training
This session is for
Educators
The Photographic Revolution: The Ethics and Impact of Seeing the Story
Educators learn about the evolution of investigative reporting in the United States, then use case studies to practice teaching media literacy to students.
What you'll learn
From the horror of the battlefield to the squalor of 19th century New York City, a new witness saw all: the camera. Focusing on Civil War battlefield photography and Jacob Riis's investigation into New York tenement conditions, this professional development workshop introduces participants to the logistical and ethical implications created by new technology. Educators learn about the guiding principles of journalism, the early history of photography, and the origins of modern investigative and war reporting. Through real-life case studies, participants connect historical topics to contemporary issues. They also learn about strategies and resources for teaching with historical newspapers and photographs in their classrooms.
Day(s) offered
Monday–Friday
Time(s) offered
9 a.m.–3 p.m.
Venue and Capacity
Learning Center (max 36)
Documentary Theater (max 100)
Your location
We also can present this class 
in your community. Contact us for more details: 202/292-6650 or educationprograms@freedomforum.org.
Minimum enrollment
12 participants
Enrollment type
Registration required
This workshop is for groups of at least 12 people. For more details on options or customizations (extra fee), please call the education reservation line at 202/292-6650 or write to educationprograms@freedomforum.org. Workshops must be requested at least one week in advance. We recommend arriving at the Newseum at least 15 minutes before your scheduled workshop time.
If you need to reschedule or cancel your workshop, please contact the Education Department at 202/292-6650 OR write to educationprograms@freedomforum.org before the date of your scheduled visit. All ticket sales are final. There are no refunds for no shows or unused tickets.
Assistance (e.g. ASL interpretation, assistive listening, description) for programs/tours can be arranged with at least seven business days' notice. Please contact AccessUs at AccessUs@newseum.org or by calling 202/292-6453.
Quick View
Share
Contains Copyrighted Material (requires
an account
)