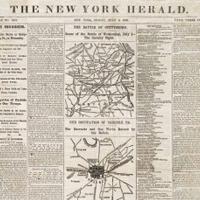 Classes & Training
This session is for
Educators
Reporting the Civil War
Educators learn about the role of technology in shaping news coverage and public perception of the Civil War, and the evolution of professional journalism.
What you'll learn
As the first American-involved conflict covered by professional journalists, the Civil War marked the birth of modern American war reporting, forever changing the nation's expectations for wartime news. This workshop explores the technological advances — and corresponding challenges — that shaped the era's press. Discover how the lightning speed of the telegraph revolutionized newspaper coverage of battlefield action and magnified tensions between the press and the military. Learn about the tedious techniques battlefield photographers had to master to capture now-iconic images, and draw connections to modern-day issues as you debate the ethical implications of racing to print the latest scoop on troop positions. The workshop includes a discussion of resources and strategies for bringing this material into your classroom. Attendees will receive the Newseum's Civil War front-page battlefield map poster to use with their students.
Day(s) offered
Monday–Friday
Time(s) offered
9 a.m.–3 p.m. ET
Venue and Capacity
We also can present this class 
in your community. Contact us for more details: 202/292-6650 or educationprograms@freedomforum.org.
Minimum enrollment
12 participants
Enrollment type
Registration required
This workshop is for groups of at least 12 people. For more details on options or customizations (extra fee), please call the education reservation line at 202/292-6650 or write to educationprograms@freedomforum.org. Workshops must be requested at least one week in advance. We recommend arriving at the Newseum at least 15 minutes before your scheduled workshop time.
If you need to reschedule or cancel your workshop, please contact the Education Department at 202/292-6650 OR write to educationprograms@freedomforum.org before the date of your scheduled visit. All ticket sales are final. There are no refunds for no shows or unused tickets.
Assistance (e.g. ASL interpretation, assistive listening, description) for programs/tours can be arranged with at least seven business days' notice. Please contact AccessUs at AccessUs@newseum.org or by calling 202/292-6453.
Quick View
Share
Contains Copyrighted Material (requires
an account
)