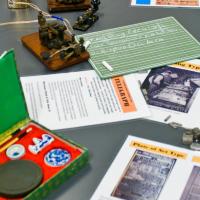 Classes & Training
This session is for
Students
Speed of News
Students see how technology affects communication through hands-on exploration of telegraphs, typewriters, metal type sorts and more.
What you'll learn
Students learn how people have shared news and information throughout history — from cave paintings to telegraphs, from criers to television. At exploration stations, students get hands-on experience with new and old forms of communications – some fast, some slow, some familiar, some not. See how technology drives the way we share information.
Day(s) offered
Monday-Friday
Time(s) offered
9 a.m.-4 p.m. ET
Minimum enrollment
12 participants
Enrollment type
Registration required
Classes at the Newseum: Classes must be requested at least one week in advance. Please be advised that your preferred date may not be available, so have at least two dates in mind. We recommend arriving at the Newseum at least than 15 minutes before your scheduled class time. 
This class requires a minimum of 12 students and a maximum of 30 students in the Learning Center classroom. Groups larger than class capacity will be assigned staggered class times based on your group's window of availability. We appreciate hands-on assistance from chaperones when needed.
When a school fails to appear for its scheduled Newseum class, it prevents other schools from using that slot. Please notify us at least one week in advance if you must cancel your reservation.
Assistance (e.g. ASL interpretation, assistive listening, description) for programs/tours can be arranged with at least seven business days' notice. Please contact AccessUs at AccessUs@newseum.org or by calling 202/292-6453.
NCSS Curriculum Standards: NCSS 8

An understanding or science and technology in their social contexts allows learners to questions and analyze the impact of science and technology on society.

NCSS Curriculum Standards: Topic 4, Standard 8C

The student understands changes in communication and their effects.
Quick View
Share
Contains Copyrighted Material (requires
an account
)