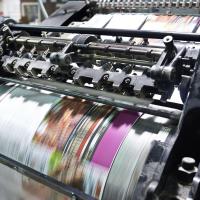 Classes & Training
This session is for
Professionals
Stop the Presses!
In this one-hour team-building experience, discover how newspaper editors decide what stories make the front page every day, then race to design your own front page on deadline.
What you'll learn
You're the editors-in-chief — can you decide what stories are newsworthy and make deadline? In Stop the Presses!, you'll take on the roles of editors and designers and investigate the factors that influence which stories make the cut. Once you've mastered the basics, you'll work in teams to design a front page. It's a race to make deadline — and working together is the only way to finish in time!
Day(s) offered
Monday-Friday
Time(s) offered
9 a.m.-4 p.m. ET
Cost
$30 per person
Includes admission to the Newseum
Minimum enrollment
10 participants
Enrollment type
Registration required
For more information on this team-building exercise, please call the education reservation line at 202/292-6650 or contact educationprograms@freedomforum.org. Reservations must be made and final payment received at least two weeks before the program date. We recommend arriving at the Newseum at least 15 minutes before your scheduled program time.
Groups larger than class capacity will be assigned staggered class times based on your group's window of availability.
All sales are final. If you need to reschedule or cancel your program, please contact the Education Department at 202/292-6650 OR email educationprograms@freedomforum.org  before the date of your scheduled trip. There are no refunds for no shows or unused tickets.
Assistance (e.g. ASL interpretation, assistive listening, description) for programs/tours can be arranged with at least seven business days' notice. Please contact AccessUs at AccessUs@newseum.org or by calling 202/292-6453.
Quick View
Share
Contains Copyrighted Material (requires
an account
)