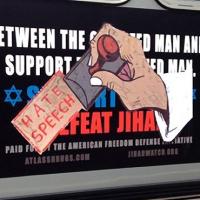 Classes & Training
This session is for
Educators
Professionals
Teaching Controversy: Turning Third-Rail Topics into Productive Debates
Learn how NewseumED turns controversial subjects into the fodder for engaging student experiences. Gain practical tools and techniques for overcoming the obstacles to teaching hot-button issues.
What you'll learn
In today's world, there seems to be an endless list of issues that have a vital impact on our lives, but also the potential to derail a class session due to inappropriate content or divisive ideas. As First Amendment educators, the NewseumED team has spent years developing tools and techniques for turning this topics countless flashpoints and controversies – from racism and obscenity to threats of violence – into teachable moments. In this session, participants will learn the preparation and discussion methods that have allowed NewseumED to build a successful practice of teaching controversy. They'll leave with a deeper understanding of resources available to them and the tools they need to confidently develop their own student materials and experiences.
This workshop includes an interactive lesson with a Newseum educator, teaching strategies and resources, and a gallery exploration guide. 
Day(s) offered
Monday–Friday
Time(s) offered
9 a.m.–3 p.m. ET
Venue and Capacity
Learning Center (max 36)
Your location
We also can present this class 
in your community. Contact us for more details: 202/292-6650 or educationprograms@freedomforum.org.
Minimum enrollment
12 participants
Enrollment type
Registration required
This workshop is for groups of at least 12 people. For more details on options or customizations (extra fee), please call the education reservation line at 202/292-6650 or write to educationprograms@freedomforum.org. Workshops must be requested at least one week in advance. We recommend arriving at the Newseum at least 15 minutes before your scheduled workshop time.
If you need to reschedule or cancel your workshop, please contact the Education Department at 202/292-6650 OR write to educationprograms@freedomforum.org before the date of your scheduled visit. All ticket sales are final. There are no refunds for no shows or unused tickets.
Assistance (e.g. ASL interpretation, assistive listening, description) for programs/tours can be arranged with at least seven business days' notice. Please contact AccessUs at AccessUs@newseum.org or by calling 202/292-6453.
Quick View
Share
Contains Copyrighted Material (requires
an account
)