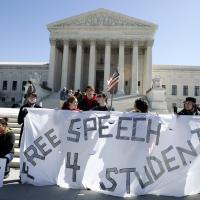 Classes & Training
This session is for
Students
You Can't Say That in School?!
Students debate court cases to learn how far First Amendment protections extend in public schools, and why limits may be necessary.
What you'll learn
Students discover how the five freedoms guaranteed by the First Amendment apply in everyday life and in school. When are there limits and why? The landmark Supreme Court case of Tinker v. Des Moines serves as a basis to discuss how public school officials must balance a student's right to free expression with the need to provide a safe learning environment. Students then discuss and debate other real-life court cases.
Day(s) offered
Monday–Friday
Time(s) offered
9 a.m.–4 p.m. ET
Venue and Capacity
Learning Center (max 36)
Documentary Theater (max 100)
Virtual (no limit)
Minimum enrollment
12 participants
Classes at the Newseum: Classes must be requested at least one week in advance. Please be advised that your preferred date may not be available, so have at least two dates in mind. We recommend arriving at the Newseum at least than 15 minutes before your scheduled class time. 
This class requires a minimum of 12 students and a maximum of 36 students in the Learning Center classroom or 100 in the Documentary Theater. Groups larger than class capacity will be assigned staggered class times based on your group's window of availability.
Virtual classes: Virtual classes must be requested at least two weeks in advance. To request a free virtual class, please complete the virtual request form. All reservations are tentative pending confirmation of hardware and software capabilities. 
When a school fails to appear for its scheduled Newseum class, it prevents other schools from using that slot. Please notify us at least one week in advance if you must cancel your reservation.
Assistance (e.g. ASL interpretation, assistive listening, description) for programs/tours can be arranged with at least seven business days' notice. Please contact AccessUs at AccessUs@newseum.org or by calling 202/292-6453.
Common Core State Standards: CCSS.ELA-LITERACY.CCRA.SL.1

Prepare for and participate effectively in a range of conversations and collaborations with diverse partners, building on others' ideas and expressing their own clearly and persuasively.
Center for Civic Education: CCE.III

A. How are power and responsibility distributed, shared, and limited in the government established by the United States Constitution? D. What is the place of law in the American constitutional system? E. How does the American political system provide for choice and opportunities for participation?

Center for Civic Education: CCE.V

A. What is citizenship? B. What are the rights of citizens? C. What are the responsibilities of citizens? D. What civic dispositions or traits of private and public character are important to the preservation and improvement of American constitutional democracy? E. How can citizens take part in civic life?
Quick View
Share
Contains Copyrighted Material (requires
an account
)