2018 Teacher Open House Is Oct. 6
Published August 24, 2018
Updated October 1, 2018
Join us for an exciting day as we preview content from an upcoming EDCollection on free speech, launch our Media Literacy Essentials EDCollection, and unveil our website's new look and features. Admission is free for educators and librarians!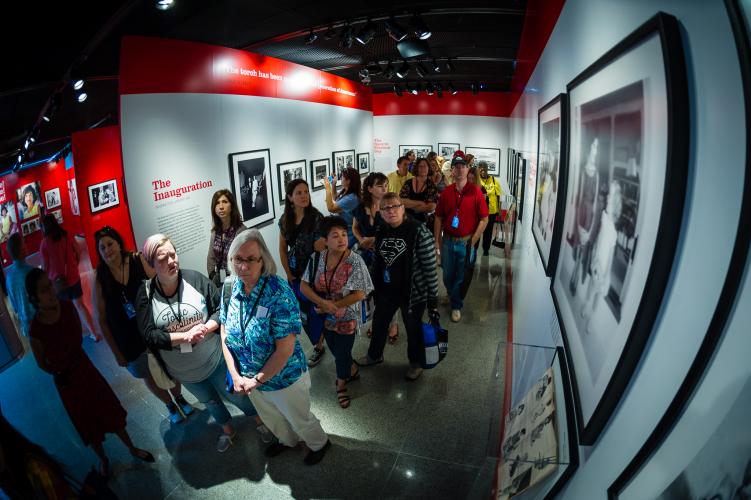 (Note: Advance registration is closed. Walkups welcome.)
We're excited! Our annual open house enables us to personally connect with people in the education community. It's our version of back-to-school night — but held during daylight hours and on a grander scale.
WHEN: Saturday, Oct. 6
TIME: 9 a.m. to 5 p.m. Special programming from 9:30 a.m. to 4 p.m.
WHERE: Throughout the Newseum
COST: Free for educators and librarians. $11 for up to five guests.
Come sample our classes, take guided tours of the galleries, view items not on display to the public in our curatorial sessions, learn how to book a field trip, and attend special programs. Attendees will receive a free tote bag, food vouchers, and discounts in our Newseum Store and Food Section. (For more information on who's eligible for free admission that day, see below.)
Discover the great resources in our newest EDCollection, Fact Finder: Your Foolproof Guide to Media Literacy. The lesson plans, artifacts, videos and more provide the tools to detect and avoid misinformation, and navigate the Web to become skilled in the art of searching, selecting sources and sharing stories and information.
Keynote session on "Finding Facts in the Age of Fake News," with panelists Valerie Strauss, education reporter at The Washington Post; Hadar Harris, executive director of the Student Press Law Center; and Heather Rose, technology teacher specialist with Frederick County (Md.) Public Schools.
Get a sneak peek at our Free Speech Fundamental for Students EDCollection that will launch in late November.
Explore the new look and features of our revamped website, NewseumED.org.
"Free to Write:  What good is freedom of expression, if we lack the means to express ourselves?" Author and teacher Roy Peter Clark will share reading, writing and teaching tools that are essential to an effective education in communication and civic literacy.
Public librarians, in addition to school librarians, attend for free.
View a schedule of events for the day. Come for all or part of the day!
REGISTRATION: Advance registration is strongly recommended because it allows us to have enough resources and staff on hand. As an incentive, educators who register in advance AND attend the event will be entered into a drawing for a $150 and two $100 gift cards to Jose Andres's restaurants in D.C. (Zaytinya, China Chilcano, Oyamel and others). Preregister. (Note: You can register on-site the day of the open house, but you won't be eligible for the cool special prizes.)
YOUR GUESTS: Open house attendees may purchase discounted $11 admission tickets for up to five of their guests at the door. Guests accompanying teachers do not need to register in advance and they are not eligible for door prizes. Priority seating in programs will go to educators; guests will be admitted if space permits.
HOURS/SCHEDULE: The Newseum is open from 9 a.m. to 5 p.m. and Teacher Open House check-in and registration begin at 9 a.m. The event's special programming runs from 9:30 a.m. to 4 p.m.
GETTING HERE: The Newseum is within walking distance of Yellow, Green and Orange line Metro stations. There also is a paid parking garage in our building.
TEACHER ELIGIBILITY: You must be an active teacher, principal, counselor, librarian/media specialist, school level staff, school district level staff, state level staff or college professor to receive free admission. Retired teachers are NOT included. Valid forms of ID include: school identification; pay stub; letter from the principal on school letterhead; insurance card; union card; letter of intent to home school, issued by a government agency or school district. Public librarians are welcome, too, with business ID. Tour operators, please bring a business card for ID purposes. Not sure if you qualify? Contact us.
SPECIAL GUEST: We are particularly looking forward to welcoming Katie Leach from Pennsylvania, the winner of our Teacher Appreciation Sweepstakes this spring. Her prize package included airfare and housing (courtesy of the Liaison Capitol Hill) to attend the open house.
ACCOMMODATIONS: Coming in from out of town for Teacher Open House, or just wanting to stay in town? Two local hotels are offering special discounts off the advertised room rates:
Download a flier to post and/or share
ACCESSIBILITY QUESTIONS?
Assistance (e.g. ASL interpretation, assistive listening, description) for Teacher Open House can be arranged with at least seven business days' notice. Please contact AccessUs at AccessUs@newseum.org or by calling 202/292-6453.