On The Road - Fall 2017 Conferences
Published September 14, 2017
NewseumED invites you to join us at a variety of educator conferences this fall, where we will be showcasing our media literacy and First Amendment resources.
You'll find us in exhibit booths and/or behind lecterns. If you're at one of the conferences, we hope you will stop by and say hello.
Visit us in booth 316 to get a copy of our new media literacy posters, with lesson plans on the back. We're also presenting three sessions at NCSS:
"A Climate of Fear: Misinformation and Propaganda" at 10 a.m. Friday, Nov. 17, uses archival and current examples to explore how propaganda has evolved over the last century, and how students can recognize and fend off its techniques. Co-presenting with us are George Washington University professor Michael Freedman and Palo Alto English/journalism teacher Esther Wojcicki. Room 2002, Moscone Center West
"Navigating NewseumED: Free Online Media Literacy and First Amendment Resources" at 2:15 p.m. Nov. 17  showcases our online resources and demonstrates ways to integrate them into the classroom. Alcove A, 2nd floor, Moscone Center West
"Fighting Fake News: How to Outsmart Trolls and Troublemakers" at 9:15 a.m. Saturday, Nov. 18, provides tools to help students identify bad information and a Real or Fake Challenge to put those skills to the test. Co-presenting with us is Bruce Lesh with the Division of Curriculum, Assessment and Accountability at the Maryland State Department of Education. Room 3022, Moscone Center West
We're sharing booth 413 with the Newseum Institute's Free Spirit program. Stop by to learn about our resources and the opportunity for high school journalism students to  participate in the all-expenses paid, five-day Al Neuharth Free Spirit and Journalism Conference at the Newseum in Washington, D.C., June 16-21, 2018. Previous Events and Presentations
We're hosting a pre-conference session at the Newseum titled "The Third Rail: Building Peace by Teaching Controversial Content," which will explore classroom techniques and strategies to encourage constructive civic dialogue among students.
We're teaming with Newseum Summer Institute alumna Dorothy D'Ascanio to discuss "Real Media Literacy for a Fake News World"  at 10:25 a.m. that Friday.  The session recognizes that school librarians are leaders in implementing information literacy in today's "post-truth world" and can provide valuable help and resources to teachers who teach it.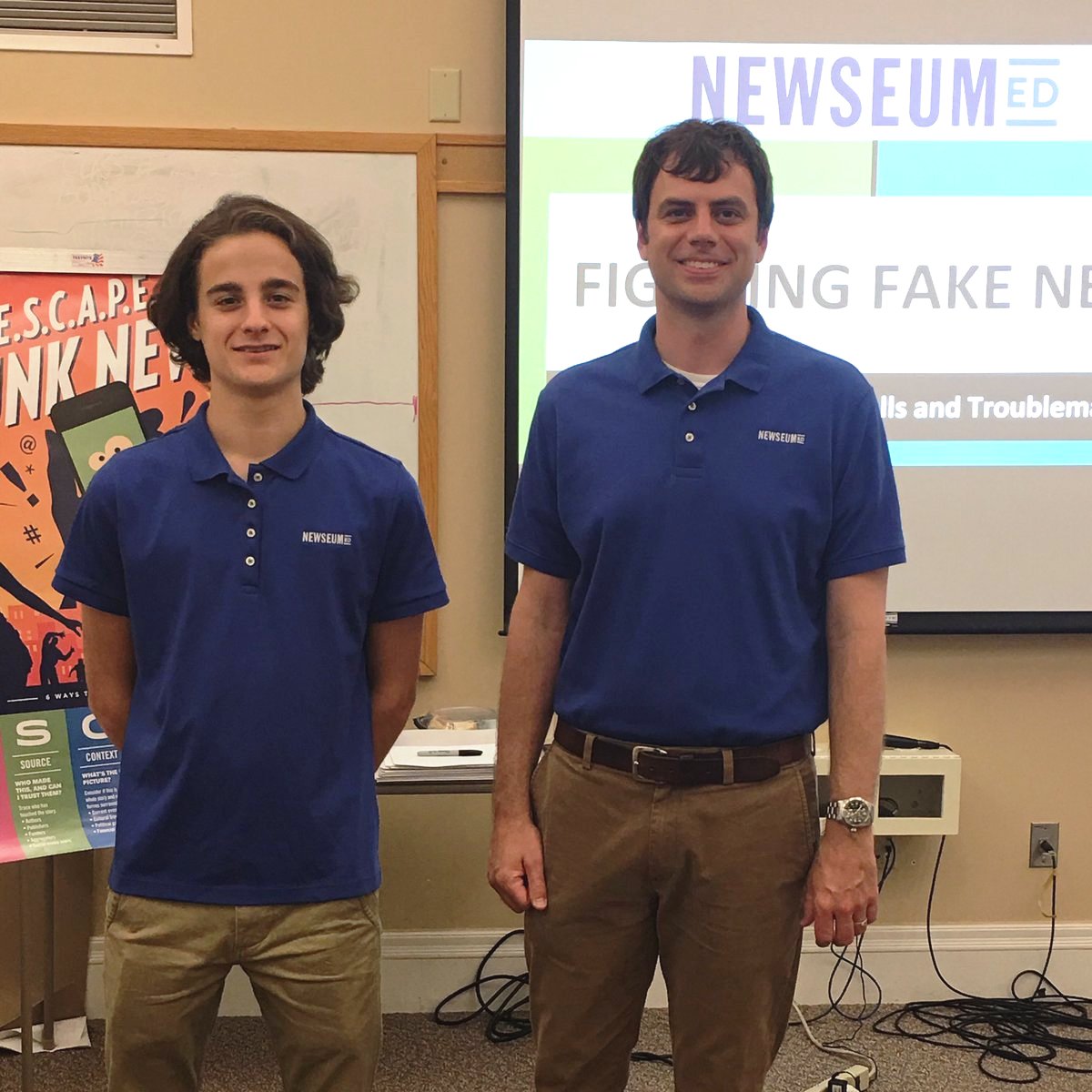 The power of the First Amendment in bringing about social change is the focus of our presentation at 10:15 a.m. on Friday, Nov. 3.  In "Fostering Advocacy through the First Amendment," attendees analyze advocacy artifacts from the women's suffrage movement and apply those persuasion techniques to contemporary campaigns. The content aligns with the conference theme of "Uncovering the Past to Empower the Future."
Check out our resources and get a free "E.S.C.A.P.E. Junk News" poster in exhibit booth 321. On Friday, Nov. 10, join us at 4:30 p.m. in room North 123 for "Separating Fact from Fiction: Teaching Media Literacy in a World of Misinformation."  Co-presenting with us is a Wiki expert who'll provide tips on how your students can effectively use  Wikipedia for classwork and research.