Wanted: Students for 2018-19 Newseum Advisory Team
Published August 15, 2018
NewseumED is looking for energetic and dedicated middle and high school students to join our in-house focus group for the 2018-2019 school year. Applications are due Oct. 3.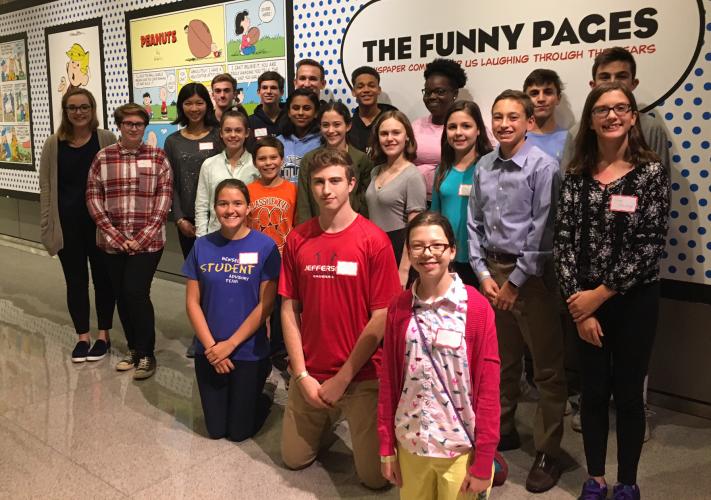 Members of this team serve as student ambassadors and consultants for the Newseum, a museum dedicated to promoting and defending the five freedoms of the First Amendment.
The Student Advisory Team provides feedback on and contributes to the development of new curriculum, educational programs and our education website, NewseumED.org. For example, last year the Student Advisory Team tested our virtual Fighting Fake News class, gave us feedback on the design of three infographics and helped us pick which archived front pages to include on our website, among other activities.
The Student Advisory Team meets monthly October through May at the Newseum. Most of the meetings will take place on Thursdays from 5:30-7:30 p.m., though two of the meetings will be on Sunday afternoons from 1:30-3:30 p.m. Team members must be able to regularly attend meetings.
The first meeting of the year will be Thursday, Oct. 18, 2018. Students who fulfill the participation requirements will receive a package of tickets to the Newseum. Verification of volunteer hours will also be provided.
Interested students should submit this application and have a faculty or community member send a letter of recommendation by Wednesday, Oct. 3, 2018, at 11:59 p.m. ET. Applicants will be notified of a decision via email by Oct. 11.