Plan a Visit
Suggested itineraries and gallery guides help you meet educational goals, keep your group organized and make the most of your museum visit.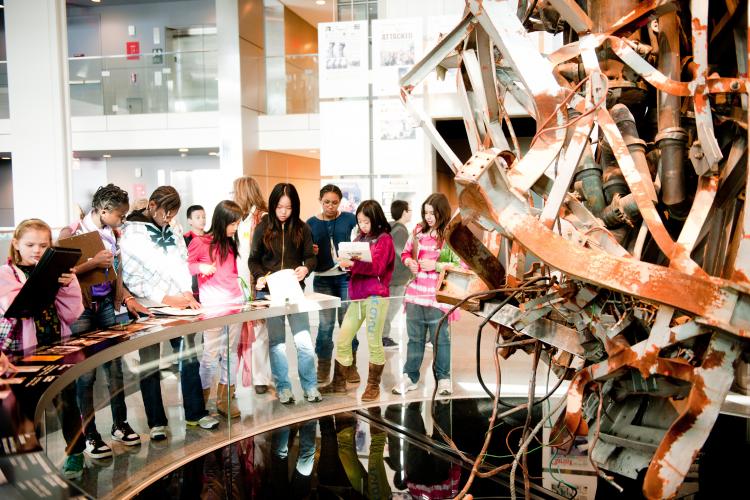 You know your students best. Please use these gallery suggestions above as a guide — there are other sections of the Newseum that also might appeal to you and to your students. Some galleries and exhibits may be too graphic or intense for certain ages.
Navigating 15 galleries, 15 theaters and 250,000 square feet of exhibit space with students is no easy feat. Our resources below will help you quickly find the right combination of exhibits, classes and activities to engage your students, meet your learning goals and efficiently move through the museum.
"We travel from New York City to the Newseum, and it is well worth the expense and trouble. Best museum in the country." — Ann Roberts, teacher, City and Country School
NewseumED staff would be happy to discuss your field trip plan or answer any questions you might have. Call us at 202/292-6650 or email educationprograms@freedomforum.org.
Bringing a Group?
Find everything you need to book a visit for your class or group, including our field trip request form, information on school and youth group admission prices and our field trip policies and procedures. If you're an individual looking to buy general admission tickets, you can do so by visiting www.newseum.org/tickets/.
Things to Know Before You Go
Tickets
All tickets are good for two consecutive days. Tour any day and come back the next day for free! See a full list of student and chaperone pricing. Accepted forms of payment include Visa, MasterCard, American Express, Discover, corporate check or money order. The Newseum will NOT accept purchase orders as a form of payment.
Arrival
Please enter through the main entrance on Pennsylvania Avenue. Your tickets will be held for you at the admissions desk. The Newseum does not provide bus parking. Please advise students to leave bags and backpacks on the bus if possible to eliminate delays in entering through Newseum security. Note: Due to construction, C Street will be closed to buses indefinitely beginning June 1, 2016. Bus staging will occur on Pennsylvania Avenue. 
Lunch
Visit the Group Dining Options page to find several quick and economical ways to enjoy lunch at the Newseum in the The Food Section by Wolfgang Puck. Please note that outside food and beverage may NOT be consumed in the Newseum. Students may bring in their own lunches, but they must remain in their backpacks and be eaten offsite. There is no storage at the Newseum for student lunches.
Inclement Weather
Weekdays: During inclement weather, the Newseum follows the federal government's decision regarding weekday business hours. Please check newseum.org for all updated news on weather-related openings, closings or delays. Weekends: In case of snow or other potentially hazardous weather or emergency situations, a decision may be made to close the Newseum. These decisions are made after consulting the National Weather Service and Newseum personnel. Please call the Building Operations Center (BOC) at 202/292-6666 after 7 a.m. ET to verify if the Newseum is open for the day.
Gallery Guides
Thematics, standards-aligned gallery guides support student understanding of the exhibits. They're ready to go as PDFs and available as Word documents for easy customization.
Green Jackets
Lost? Have a question about an exhibit? Look for the Visitor Services Representatives in green jackets throughout the building; they'll be happy to answer any questions.
Glass Elevators
Students (and teachers!) love riding the glass elevators and getting the best view of all seven levels. Entry is on the Hubbard Broadcasting Concourse level.