Learn more about "Rise Up: Stonewall and the LGBTQ Rights Movement" here.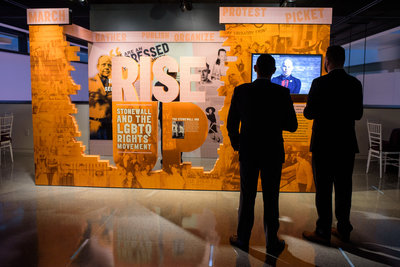 The Newseum exhibit "Rise Up" looks at the Stonewall riots of 1969 and provides a bridge to discussing contemporary issues that make media headlines and divide communities.
The resources below will help anyone who wants to discuss religious freedom, civil liberties and today's media in their communities: in school, around the kitchen table, or at a town hall event. Select one to learn about the perspectives of debate participants and get context for a meaty conversation.
Have more time? You can take a deeper dive with the following sequence: 
Start with the exhibit guide to understand a turning point in the gay rights movement.
Use "Provocative to Productive" to learn how to lead a conversation on a contentious topic.
Pair a critical debate and news analysis to gain a deeper understanding of contemporary LGBTQ and civil liberties issues. 
Questions? Suggestions? Please share your thoughts with us here.  
– NewseumED
You're exploring LGBTQ and religious freedom issues
Bring 'Rise Up' Into Your Community