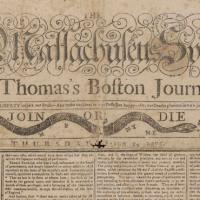 Battle for the Bill of Rights: Gallery Guide
This guide takes students through the News Corporation News History Gallery at the Newseum where they look at artifacts from 1775 to 1789.
Oh no, you're missing out on great content!
This content contains copyrighted material that requires a free NewseumED account.
Registration is simple — and comes with full access to videos, artifact, interactives, shareable content, and more.
Sign Up
?
NewseumED is provided as a free educational resource and contains copyrighted material. Registration is required for full access. Signing up is simple and free.
Once you create a free account, 
you'll have access to:
Downloads
Videos and Artifacts
Interactives
and more!
Duration
Less than 30 minutes
Common Core State Standards: CCSS.ELA-LITERACY.CCRA.R.1

Read closely to determine what the text says explicitly and to make logical inferences from it; cite specific textual evidence when writing or speaking to support conclusions drawn from the text.
National Center for History in the Schools: NCHS.US History.Era 3

Standard 1: The causes of the American Revolution, the ideas and interests involved in forging the revolutionary movement, and the reasons for the American victory Standard 2: The impact of the American Revolution on politics, economy, and society Standard 3: The institutions and practices of government created during the Revolution and how they were revised between 1787 and 1815 to create the foundation of the American political system based on the U.S. Constitution and the Bill of Rights