On the Campaign Trail: Gallery Guide
This guide helps students navigate two galleries at the Newseum to explore how political campaigns and the media shape candidates' public image and influence voters.
Oh no, you're missing out on great content!
This content contains copyrighted material that requires a free NewseumED account.
Registration is simple — and comes with full access to videos, artifact, interactives, shareable content, and more.
Sign Up
?
NewseumED is provided as a free educational resource and contains copyrighted material. Registration is required for full access. Signing up is simple and free.
Once you create a free account, 
you'll have access to:
Downloads
Videos and Artifacts
Interactives
and more!
Duration
Less than 30 minutes
Topic(s)
Elections
Journalism
Politics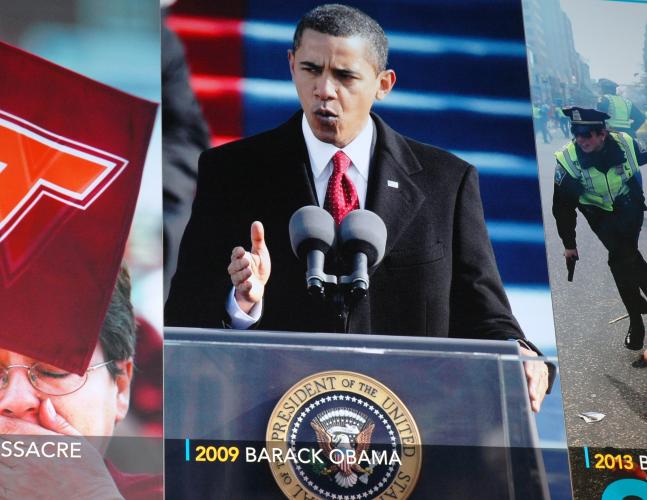 Use the guide in the News Corporation News History Gallery and the Bloomberg Internet, TV and Radio Gallery.
Common Core State Standards: CCSS.ELA-LITERACY.CCRA.R.9

Analyze how two or more texts address similar themes or topics in order to build knowledge or to compare the approaches the authors take.
National Center for History in the Schools: NCHS.Historical Thinking.3

A. Compare and contrast differing sets of ideas. B. Consider multiple perspectives. C. Analyze cause-and-effect relationships and multiple causation, including the importance of the individual, the influence of ideas. D. Draw comparisons across eras and regions in order to define enduring issues. E. Distinguish between unsupported expressions of opinion and informed hypotheses grounded in historical evidence. F. Compare competing historical narratives. G. Challenge arguments of historical inevitability. H. Hold interpretations of history as tentative. I. Evaluate major debates among historians. J. Hypothesize the influence of the past.