'Inside Today's FBI': Gallery Guide
Students visit "Inside Today's FBI: Fighting Crime in an Age of Terror" (Hubbard concourse) to learn how the press, the public and the FBI have responded to criminals from 1930s gangsters to today's cyberterrorists.
Get even more great free content!
This content contains copyrighted material that requires a free NewseumED account.
Registration is fast, easy, and comes with 100% free access to our vast collection of videos, artifacts, interactive content, and more.
Sign Up
?
NewseumED is provided as a free educational resource and contains copyrighted material. Registration is required for full access. Signing up is simple and free.
With a free NewseumED account, you can:
Watch timely and informative videos
Access expertly crafted lesson plans
Download an array of classroom resources
and much more!
Duration
Less than 30 minutes
Topic(s)
Current Events
Journalism
National Security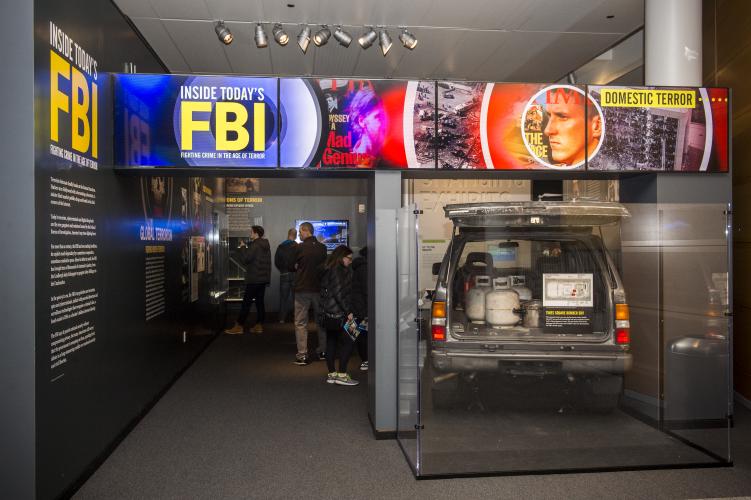 Common Core State Standards: CCSS.ELA-LITERACY.CCRA.R.1

Read closely to determine what the text says explicitly and to make logical inferences from it; cite specific textual evidence when writing or speaking to support conclusions drawn from the text.

Common Core State Standards: CCSS.ELA-LITERACY.CCRA.W.1

Write arguments to support claims in an analysis of substantive topics or texts using valid reasoning and relevant and sufficient evidence.

Common Core State Standards: CCSS.ELA-LITERACY.CCRA.W.2

Write informative/explanatory texts to examine and convey complex ideas clearly and accurately through the effective selection, organization, and analysis of content.
National Center for History in the Schools: NCHS.US History.Era 10

Standard 1: Recent developments in foreign policy and domestic politics Standard 2: Economic, social, and cultural developments in contemporary United States
National Council of Teachers of English: NCTE.1

Students read a wide range of print and non-print texts to build an understanding of texts, of themselves, and of the cultures of the United States and the world; to acquire new information; to respond to the needs and demands of society and the workplace; and for personal fulfillment. Among these texts are fiction and nonfiction, classic and contemporary works.
NCSS Curriculum Standards: NCSS 8

An understanding or science and technology in their social contexts allows learners to questions and analyze the impact of science and technology on society.

NCSS Curriculum Standards: Topic 4, Standard 8C

The student understands changes in communication and their effects.