Making a Change: Gallery Guide
Students explore the News History and "Make Some Noise" galleries at the Newseum to see how others have used the five freedoms to foster social change.
Get even more great free content!
This content contains copyrighted material that requires a free NewseumED account.
Registration is fast, easy, and comes with 100% free access to our vast collection of videos, artifacts, interactive content, and more.
Sign Up
?
NewseumED is provided as a free educational resource and contains copyrighted material. Registration is required for full access. Signing up is simple and free.
With a free NewseumED account, you can:
Watch timely and informative videos
Access expertly crafted lesson plans
Download an array of classroom resources
and much more!
Topic(s)
Civil Rights
Current Events
Journalism
Supreme Court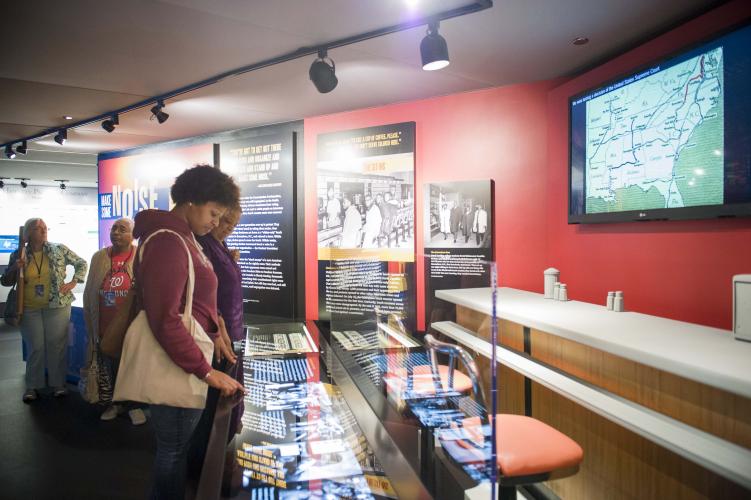 National Center for History in the Schools: NCHS.Historical Thinking.3

A. Compare and contrast differing sets of ideas. B. Consider multiple perspectives. C. Analyze cause-and-effect relationships and multiple causation, including the importance of the individual, the influence of ideas. D. Draw comparisons across eras and regions in order to define enduring issues. E. Distinguish between unsupported expressions of opinion and informed hypotheses grounded in historical evidence. F. Compare competing historical narratives. G. Challenge arguments of historical inevitability. H. Hold interpretations of history as tentative. I. Evaluate major debates among historians. J. Hypothesize the influence of the past.

National Center for History in the Schools: NCHS.US History.Era 4

Standard 1: United States territorial expansion between 1801 and 1861, and how it affected relations with external powers and Native Americans Standard 2: How the industrial revolution, increasing immigration, the rapid expansion of slavery, and the westward movement changed the lives of Americans and led toward regional tensions Standard 3: The extension, restriction, and reorganization of political democracy after 1800 Standard 4: The sources and character of cultural, religious, and social reform movements in the antebellum period

National Center for History in the Schools: NCHS.US History.Era 6

Standard 1: How the rise of corporations, heavy industry, and mechanized farming transformed the American people Standard 2: Massive immigration after 1870 and how new social patterns, conflicts, and ideas of national unity developed amid growing cultural diversity Standard 3: The rise of the American labor movement and how political issues reflected social and economic changes Standard 4: Federal Indian policy and United States foreign policy after the Civil War

National Center for History in the Schools: NCHS.US History.Era 7

Standard 1: How Progressives and others addressed problems of industrial capitalism, urbanization, and political corruption Standard 2: The changing role of the United States in world affairs through World War I Standard 3: How the United States changed from the end of World War I to the eve of the Great Depression

National Center for History in the Schools: NCHS.US History.Era 8

Standard 1: The causes of the Great Depression and how it affected American society Standard 2: How the New Deal addressed the Great Depression, transformed American federalism, and initiated the welfare state Standard 3: The causes and course of World War II, the character of the war at home and abroad, and its reshaping of the U.S. role in world affairs

National Center for History in the Schools: NCHS.US History.Era 9

Standard 1: The economic boom and social transformation of postwar United States Standard 2: How the Cold War and conflicts in Korea and Vietnam influenced domestic and international politics Standard 3: Domestic policies after World War II Standard 4: The struggle for racial and gender equality and for the extension of civil liberties
Center for Civic Education: CCE.V

A. What is citizenship? B. What are the rights of citizens? C. What are the responsibilities of citizens? D. What civic dispositions or traits of private and public character are important to the preservation and improvement of American constitutional democracy? E. How can citizens take part in civic life?