2019 Teacher Open House
Published August 19, 2019
Updated October 2, 2019
Join us for our 10th and final fall Teacher Open House at our Pennsylvania Avenue location on Saturday, Oct. 5. Use this opportunity to visit the museum before it closes on Dec. 31. (Advance registration is now closed. Register on-site that day.)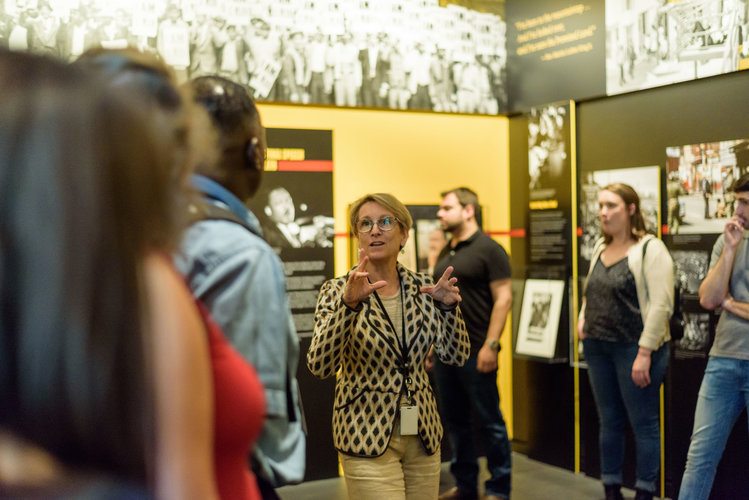 Note: Advance registration is now closed. Register on-site that day.
When: Saturday, Oct. 5, 9 a.m.-5 p.m. (Special programming 9:30 a.m.-3:30 p.m.) 
Where: 

Newseum, 555 Pennsylvania Ave. NW, Washington D.C. 20001

Cost:  FREE for educators/administrators, school and public librarians, religious and civic leaders, and other invited guests. (ID required*) Plus, special $12 admission rate for up to five of your guests.
Peruse our exhibits and participate in our programs on a day of appreciation to all educators.
HIGHLIGHTS:
Get a sneak peek at

Disinformation Nation, our upcoming public education campaign to help people recognize and resist the pull of propaganda.

Tackle brainteasers in our puzzle-based Ace Reporter Scavenger Hunt. 

Show off your smarts at NewsMania – the Newseum's trivia game show.

Sessions on the state of the First Amendment, why Edward R. Murrow still matters and teaching controversial topics.

Exhibit tours
ALSO ENJOY:
Complimentary posters, swag and a candy buffet.

Discounts in The Food Section and the Newseum Store
View a final schedule of events
Come for all or part of the day!
FREE ELIGIBILITY: You must be an active teacher, principal, counselor, librarian/media specialist, school level staff, school district level staff, state level staff or college professor to receive free admission. Valid forms of ID include: school identification; pay stub; letter from the principal on school letterhead; insurance card; union card; letter of intent to home school, issued by a government agency or school district. Public librarians, as well as civic and religious leaders also get in free with business ID or card.  Not sure if you qualify? Contact us.
Advance registration is now closed. Register on-site that day.
YOUR GUESTS: Open house attendees may purchase discounted $12 admission tickets for up to five of their guests at the door. 
GETTING HERE: The Newseum is within walking distance of a couple of Metro stations. There also is a paid parking garage in our building.
Assistance (e.g. ASL interpretation, assistive listening, description) for Open House can be arranged with at least seven business days' notice. Please contact AccessUs at [email protected] or by calling 202/292-6453.