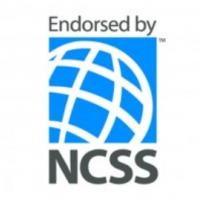 NCSS Endorses NewseumED's Website
Published October 31, 2017
The social studies education association recognizes the website that helps students understand the historical underpinnings of today's issues, sharpen their analytical skills, and make informed decisions in a diverse and demanding world.
 The Newseum is pleased to announce that newseumED.org, the website of the Newseum's education department, has been endorsed by the National Council for the Social Studies (NCSS). The association is dedicated to supporting social studies educators in teaching students the content knowledge, intellectual skills and civic values necessary for fulfilling the duties of citizenship in a participatory democracy.
NewseumED and the NCSS have a shared commitment to the value of a well-rounded social studies education as a tool for positive change in the world. NewseumED promotes First Amendment literacy, an umbrella that covers both media literacy and civic responsibility and engagement.
"The endorsement takes our longtime relationship with NewseumED to the next level," said Lawrence Paska, NCSS executive director. "NCSS has a strong partnership with the Newseum in professional learning support for all social studies educators. NewseumED.org is seen as another quality, trusted and reliable resource for our social studies community."
"During my teaching career, I found the media literacy and First Amendment resources offered by NewseumED to be of the highest quality and veracity," said NCSS president Terry Cherry. "I am so very pleased that NCSS is providing this endorsement."
The NCSS previously endorsed two EDCollections (curated suites of resources) on newseumED.org: "Making a Change: The First Amendment  and the Civil Rights Movement," and "Women, Their Rights and Nothing Less: The First Amendment and the Women's Suffrage Movement." This most recent endorsement covers the entire website, which gives students and teachers free access to the Newseum's vast collections. The website contains more than 1,100 hi-res historical front pages, artifacts, videos and standards-aligned lesson plans with connections to history, civics and media literacy.
In late November, NewseumED will launch its fifth EDCollection, a Media Literacy Booster Pack. This evolving pack of resources — including infographics, videos, historical sources and activities — will provide tools for staying fresh and fluent in today's media landscape.
In addition, NewseumED staff will present three sessions at the NCSS 97th Annual Conference Nov. 15-19 in San Francisco. The topics are: A Climate of Fear: Misinformation and Propaganda; Navigating NewseumED: Free Online Media Literacy and First Amendment Resources; and Fighting Fake News: How to Outsmart Trolls and Troublemakers.
NewseumED teaches roughly 26,000 students on-site at its museum in Washington, D.C., and reaches about 9 million students online with its free content. The website launched in October 2015.
Founded in 1921, the National Council for the Social Studies is the largest professional association in the country devoted solely to social studies education. Its mission is to provide leadership, service, and support for all social studies educators. The NCSS membership represents K-12 classroom teachers, college and university faculty members, curriculum designers and specialists, social studies supervisors, and leaders in the various disciplines that constitute the social studies.