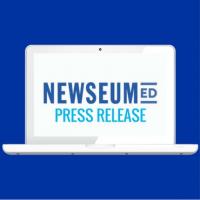 For Action Initiative Pledges Generous Support for Newseum Education
The Newseum is honored to announce a gift of $110,000 from the For Action Initiative (FAI) and the Families of September 11 Organization. The donation will fund a new "Teaching 9/11" learning module on the Newseum's innovative website for teachers and students.
The free, online education tool will incorporate the Newseum's mission to champion the First Amendment with FAI's mission to raise awareness — especially among students — of the lasting domestic and international effects of 9/11. In 2013, students from all 50 states and 16 countries visited the Newseum and participated in the museum's free educational classes.
The Newseum is home to the 9/11 Gallery Sponsored by Comcast, which follows that tragic day through the eyes of the journalists who reported the story to a shaken nation and world. The gallery features front-page coverage of the attacks from Sept. 12, 2001, a broadcast antenna from the World Trade Center towers, and artifacts and photos from Bill Biggart, the only journalist killed in the attacks.
FAI's generous gift will allow the Newseum to replicate its rich 9/11-related content on the Web and provide it to all students and teachers for free, including those who were very young or not yet born when the attacks happened.
"Our board believes that our curriculum and resources will be in good hands at the Newseum," said Nancy Aronson, 9/11 family member and board member of the For Action Initiative. "They are an ideal partner to extend our work into a broader context."
"We are honored that the For Action Initiative selected us to build on their organization's vision and 10 years of hard work," said Barbara McCormack, director of education at the Newseum. "We will take great care to ensure that teachers and students around the nation can meaningfully incorporate 9/11 lessons into the classroom, aided by our focus on media literacy and civic engagement."
The "Teaching 9/11″ module is expected to launch in September 2015, one year before the 15th anniversary of the terrorist attacks. Other teacher and student resources are currently available on the NewseumED, including modules on the civil rights and women's suffrage movements.