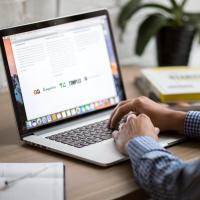 Blog Highly Ranks NewseumED for Tech Resources
The National School Supply & Furniture blog recommends NewseumED as one of the top 10 technology resources for teachers.
A blog post entitled "Top Technology Resources for Teachers" lists NewseumED as #4 of 10, among online giants such as Google Classroom and Edmodo. NewseumED is the only resource on the list that is a content site — providing artifacts, primary sources, and videos to incorporate into curriculum — rather than a tool or platform. The post was published by National School Supply & Furniture, a company associated with Direct Advantage, which works to provide supplies, resources and tools for teachers.