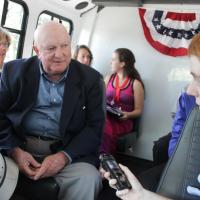 Civility in Presidential Election Discourse
Published October 7, 2016
Updated October 26, 2016
Attend a panel discussion about the role the media has played in the mud-slinging of this election and the implications for future races.
Note: Because of the overwhelming response to the program, we are no longer taking ticket requests or placing people on a wait-list. We have reached capacity. The program will be live-streamed on the Newseum website, broadcast on the big screen in the Newseum atrium, and on C-Span.
Former White House press secretary Marlin Fitzwater is interviewed on the "press bus" by Thomas Dynan during the high school summer program, The Presidency and The Press, through The Fitzwater Center for Communication at Franklin Pierce University in 2014. You and your students are invited to a "Civility in Presidential Election Discourse," sponsored by the Newseum and the Marlin Fitzwater Center for Communication at Franklin Pierce University.
Date: Friday, Oct. 28, 2016
Time: 11 a.m. to noon
Location: Newseum Knight Studio, 555 Pennsylvania Ave. NW, Washington, D.C.
Cost: Free
Join us as we unpack the insights of leaders in politics and the media. On the panel:
Hadas Gold of Politico
Callum Borchers of The Fix at The Washington Post
Bill Miller of No Labels and an executive with Business Roundtable
Alexander Heffner, host of the PBS show "Open Mind"
professor Jed Donelan of the New England Center for Civic Life at Franklin Pierce University
They'll discuss how students can excavate the meaty issues from the political mud. Leave with new ideas on how today's youth can revive civility and ensure the health of our democracy. To participate in this free program, request tickets via our online RSVP form, phone at 202/292-6650, or email [email protected]. After the program:
ACCESSIBILITY QUESTIONS?
Assistance (e.g. ASL interpretation, assistive listening, description) for Teacher Open House can be arranged with at least seven business days' notice. Please contact AccessUs at [email protected] or by calling 202/292-6453.