February/March 2018 E-Newsletter
Check out our newsletter devoted entirely to resources and programs to help teachers and students discuss planned walkouts and increased student activism following the Parkland shooting.
Resources for making Parkland a First Amendment teachable moment

field trips   |    classes   |    tools   |    ideas   |    collections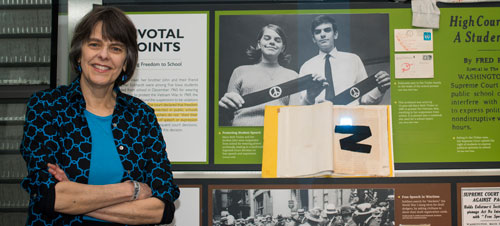 A Day of Special Programming Built Around Student First Amendment Rights
In response to the Parkland tragedy and the groundswell of student activism across the nation, we have scheduled three special events on MARCH 13, the day before a planned nationwide student walkout.   Q&A with Mary Beth Tinker (Live-streaming 11:30 a.m. to 12:30 p.m. ET) Youth rights advocate Mary Beth Tinker will join Newseum educators to discuss her landmark Supreme Court case on student speech and how it applies today. The hour-long presentation will be streamed live on Newseum.org and the Newseum's Facebook page, and will be made available shortly after as a recording on NewseumED.org. Students will be able to submit questions in advance or during the webcast via Twitter using the hashtag #my5freedoms. In 1965, Tinker, then a middle-school student, was punished for wearing a black armband to school to protest the Vietnam War. Watch Live  >   After-School Special: #my5freedoms (4:30-5:30 p.m. ET) We've created an opportunity for student journalists, student government members and other student leaders to have in-depth discussions about the issues and the upcoming walkouts and marches. RSVP to Webinar  >   #sschat: Today's Student Protests: A First Amendment Teachable Moment (7-8 p.m. ET) As school districts wrestle with whether to support student walkouts and political engagement, join us on Twitter to discuss how to make this time a teachable moment. Join the Conversation  >
Resources for Constructive Conversations
We devote the rest of our monthly newsletter to resources to help with discussions in the classroom amid talks of student walkouts and political engagement. Our free, nonpartisan resources look at: media literacy skills to help sort through the information noise; First Amendment freedoms, their role in a democracy, and their limits; examples of when young people have stood up for causes in the past; and tips for teaching controversial topics. (To access some of these resources, you must be signed into NewseumED; registration is free.)
Media Literacy Connections
There's a flurry of stories and social media posts surrounding student demands for improved school safety and new gun laws. Some are intended to sow discord or spread false allegations and misinformation. In this climate, how do you know what's accurate or credible? Use our extensive media literacy tools to help students evaluate sources, determine motive, and verify the information. Among them:
First Amendment in Action
Historical Connections
Today's Generation Z is not the first to raise their voices and demand change through protests. Examine how young people shaped history during the civil rights movement.
Tackling Controversial Topics
Follow NewseumED online!  Twitter  |  Facebook  |  Pinterest
555 Pennsylvania Ave., N.W.  |  Washington, DC 20001  |  © Newseum