Free Professional Development Workshops in Summer 2016!
Published May 13, 2016
Updated July 7, 2016
To help you implement our resources in the classroom, we're offering free workshops to educators. We'll even travel to your school district!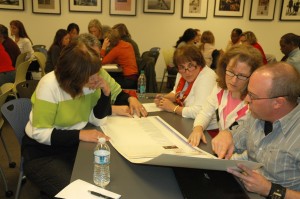 Teachers attend a workshop on media literacy.
Summer is a perfect time for teachers to get inspired and re-energized for next year — and we can help you do it! We're offering FREE professional development workshops this summer, with no strings attached. It's our way of showcasing our educational resources on-site and online that provide teachers with primary sources, lesson plans and other tools to make their job easier. Here are three ways to take advantage of the offer:
If you are in the D.C. metro area, you can schedule a special workshop on a topic of your choice for your group at the Newseum. We request a minimum of 25 people. Free admission to the Newseum is included.
If you can't come to the Newseum, we'll come to your school district and hold a free workshop of your choosing. In California?  Maine? Someplace in between? No problem, we'll travel anywhere in the U.S. at no cost to you. We request a minimum of 50 people.
If you aren't part of  group, you can attend one of six open-enrollment workshops that will be held this summer at the Newseum. The 2016 dates are July 27, Aug. 4, Aug. 9, Aug. 15 and Aug. 19. Get more details on the topics and registration information here. 
Our 90-minute professional development workshops are inquiry-based and have ties to history, civics, media literacy and the First Amendment. They are appropriate for educators working with students in grades 4-12. All workshops offer rich content, resources and strategies on how to use primary sources from the NewseumED collection in your curriculum. Our most popular workshops deal with the civil rights movement and media literacy. You can find a list here. Here's the fine print if scheduling a workshop:
Dates are subject to availability. (Blackout dates in 2016 include June 27-July 1, July 18-20, and Aug. 18-19.)
Travel funding is limited. All travel workshops must be requested and confirmed by July 29, 2016.
For more information or to schedule a workshop, please call the education reservation line at 202/292-6650 or write to [email protected]. We'd love to hear from you. The NewseumED Team