Join NewseumED at NCSS 2018
Published October 30, 2018
You can find us presenting and at booth 1207 at the 98th annual NCSS conference in Chicago.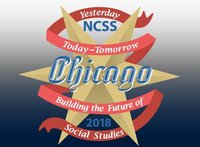 NewseumED will be hosting three presentations at NCSS Nov. 30-Dec. 2. All rooms are on the ballroom level in the East Tower of the Hyatt Regency Chicago.
9 a.m. Friday — Fostering Civil Dialogue, Grand Suite 3. NewseumED offers techniques for creating a respectful yet vibrant environment for students to explore diverse ideas on First Amendment hot-button issues, from politics to profanity, religion to racism. Co-presenting with our sister organization, the Religious Freedom Center.
10:15 a.m. Saturday — From Federalism to Firewalls: Teaching the First Amendment Today, Grand A. Help students understand where and how they can exercise freedom of expression effectively and responsibly in a new world of social media and social protests. What limits exist, and why? Co-presenter: Tyler Gordon, 8th grade teacher, Ohio
1:30 p.m. Saturday — The New Media Literacy Essentials - Grand Suite 3. Adapt traditional literacy lessons for a media landscape in which anyone (and bots) can publish and distribute information. NewseumED resources help students evaluate purpose and credibility, search rankings and AI.
In addition, NewseumED will appear on a panel at 2:45 p.m. Saturday on Civic Education & Media Literacy: Preparing Learners to Thrive in the Digital World. Grand Ballroom. This panel will explore the intersections between civic education and media literacy education from both a local and national perspective. Moderated by the National Association for Media Literacy Education (NAMLE), the conversation will include examples of best practices, discussion of the challenges educators face, and a brainstorm about how best to align efforts moving forward.
And the Religious Freedom Center will be presenting a session at 2:45 p.m. Saturday on Can You Visit Houses of Worship? A Global Competency Dilemma, Columbus KL, ballroom level, East Tower. Get guidelines about academically rigorous and constitutionally appropriate ways to visit houses of worship and invite guests to speak with students about religion in the public school classroom.
Finally, don't forget to stop by NewseumED's booth 1207 in the exhibit hall on Friday and Saturday to pick up posters for your classroom, learn about our online and digital resources, and enter to win a FitBit Versa.