May 2018 E-Newsletter
Get info on our newest online exhibit, "Photographic Lies in Stalin's Russia," our Teacher Appreciation Sweepstakes, a religious studies summer institute and more!
New Online Exhibit on Stalin's Falsification of Photographs

field trips   |    classes   |    tools   |    ideas   |    collections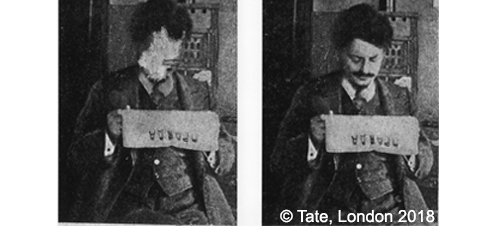 "I use NewseumED's materials for current events awareness. Kids are curating their own lives to such an extent on social media that they lose perspective on the real world and what's going on around them." — Jackie Moore, Maryland teacher
NEW: Photographic Lies in Stalin's Russia
Armed with airbrushes and scalpels, censors routinely tried to erase enemies of Joseph Stalin from Soviet history by falsifying photographs. Check out this interesting purging of truth in our new online exhibit on NewseumED. With media literacy connections, the exhibit is timely given today's media and political landscape. (If some of the material looks familiar, it's because it is based on a previous Newseum exhibit, "The Commissar Vanishes.") Explore "Photographic Lies in Stalin's Russia."
Win a Trip to D.C. to be Our VIP at Teacher Open House
Feeling lucky? In celebration of Teacher Appreciation Week, we're kicking off our spring sweepstakes to fly one educator to Washington to attend our annual Teacher Open House on Oct. 6. Sample classes, attend programs, explore the Newseum and mingle with peers on a day devoted to educators. The prize includes airfare, two nights lodging, $200 restaurant gift card and more! Please share this with your colleagues. Deadline to enter: June 16. Get details and submit your entry here.
Institute Explores Religious Studies in School
The Religious Freedom Center of the Freedom Forum Institute will host the National Council for the Social Studies (NCSS) Summer Religious Studies Institute on July 10-12 at the Newseum. The program, open to K-12 educators, will examine religious freedoms and diversity as an academic discipline. Enrollment is limited. For more information and to register, visit NCSS's event listing here.
NewseumED Moderates Global Media Literacy Program
Jessi Hollis McCarthy, our outreach educator, moderated a panel discussion hosted by the State Department for the 25th World Press Freedom Day on May 3. The live webcast was joined by an on-camera viewing group at the U.S. Embassy in Nairobi, Kenya, and more than 30 viewing groups at U.S. embassies around the world. Viewers submitted questions on how to address the problem of fake news and disinformation and the role of a free press in the current media landscape.
From Founding Fathers to Fake News: We've Got Videos
Need something to keep the last days of school engaging before the summer break? We've got online videos to expose your students to a wide range of topics, from the role of the press in the civil rights movement to the fundamentals of news to personal accounts from journalists who covered 9/11 to early challenges to the First Amendment. Most videos feature interviews, primary footage and accompanying activities. View our list of videos.
Only the Name Has Changed
On May 1 our parent organization, the Newseum Institute, changed its name to the Freedom Forum Institute. The institute is the education and outreach partner of the Freedom Forum and the Newseum, and consists of the First Amendment Center, the Religious Freedom Center and us — NewseumED. The institute's mission remains the same: to champion the five freedoms of the First Amendment. Likewise, NewseumED will continue to provide quality, educational resources for teachers, students and lifelong learners.
Newseum Visit Inspires Student's Winning Entry
Arundathi Nair, a 10th-grader from Laramie, Wyo., won second place in C-SPAN's annual student video documentary competition. She said the inspiration for her entry, "Freedom of Expression is a Human Right, Censorship a Human Wrong," was inspired by a trip to the Newseum when she was in town for a National History Day competition. "Our right to free speech to me, by far, is the most important provision to the Constitution," says the aspiring journalist and scientist. You can view her documentary here.
Follow NewseumED online!  Twitter  |  Facebook  |  Pinterest
555 Pennsylvania Ave., N.W.  |  Washington, DC 20001  |  © 2018 Newseum