Newseum Partners With Facebook on Media Literacy Initiative
Published October 6, 2017
The partnership will allow the Newseum to reach an even wider audience with its resources on fighting fake news and misinformation.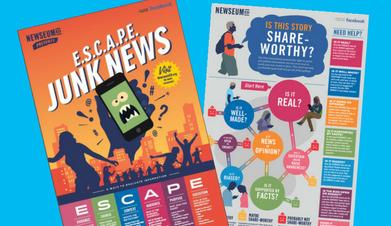 In partnership with Facebook, the Newseum is announcing a new initiative to help develop and distribute media literacy resources worldwide to students, adults and learners of all ages.
The partnership is being spearheaded by NewseumED, which provides free online content and tools to equip people to be better, more informed media consumers.
"We're thrilled to have the opportunity to work with Facebook. With their super distribution platform and our fabulous resources, we'll reach the widest audience possible," said Barbara McCormack, vice president of education at the Newseum. "Media literacy has always been a priority of ours but it is more important than ever in today's climate of fake news and misinformation."
Facebook will support NewseumED's educational offerings by providing expertise and technical capacity to convert media literacy material to new digital formats to maximize distribution and reach.
The first resources to come out of the partnership are two engaging poster-sized infographics that help students understand their roles as both media consumers and contributors. The posters address essential questions about how to analyze content and how to leverage participatory platforms for sharing ideas and information.
"E.S.C.A.P.E. Junk News" uses a handy acronym to help students remember six key concepts, such as Evidence and Source, for evaluating information.
"Is This Story Share-Worthy?" helps students gauge the value of a news story and provides steps to decide whether it should be shared.
The posters address the needs of teachers who have asked for resources and information on how they could best address the fake news issue in their classrooms. They can be downloaded from the NewseumED website, were distributed at the Newseum's annual fall Teacher Open House, and will be available at some conferences around the nation.
NewseumED teaches roughly 26,000 students on-site each year and reaches about 9 million students online with free content related to media literacy, history, civics and the First Amendment. The website hosts 1,000-plus historic front pages, artifacts, videos, lesson plans and more.
In May, NewseumED curriculum developers visited students at Palo Alto High School in California to pilot their newest media literacy class, "Fighting Fake News: How to Outsmart Trolls and Troublemakers." The class was launched at the Newseum in March in response to the false news stories that were widely shared on social media during the 2016 presidential election, and are said to have influenced public opinion. It is available to school groups on-site or via videoconferencing.