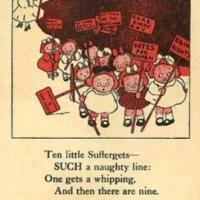 Our Top 12 Favorite Items in NewseumED Collection
Published December 16, 2015
It wasn't easy narrowing our choices, but we count down some of the hidden gems among the hundreds of items in our collection.
'Tis the season for Top 10 lists and countdowns to Christmas or the New Year. In that spirit, the Education staff presents its Top 12 favorite items on NewseumED.org.
Although not required by law or lawyers, we issue this disclaimer: The selections are totally subjective and do not represent the views of the Newseum. In addition, their order means nothing, other than lists beg for numbers (a la Four Calling Birds and Three French Hens).
Many of the items are part of our EDCollections on woman suffrage and the civil rights movement, which brings us to our final disclaimer. You must register on newseumED.org to view some of them because of copyright restrictions. But, hey, the website and registration is free, unlike many things this season.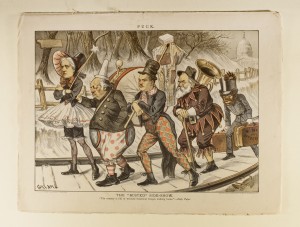 1884 candidates (Puck magazine)
#12 —  Belva Lockwood becomes the first woman to actively run for president of the United States — in 1884! Post-election, The Muscatine Daily Tribune offers this advice to the National Equal Rights Party candidate: "Belva, take your defeat kindly. In the family is your place to rule."
#11 — One week before the bombing of Pearl Harbor in 1941, The Chicago Sun reports on President Franklin D. Roosevelt's prediction that the U.S. might soon enter into war with Japan.
#10 — Excerpts from pro- and anti-suffrage pamphlets. The National Association Opposed to Woman Suffrage produced one pamphlet; suffragist Alice Duer Miller mocks anti-suffrage arguments in the second one.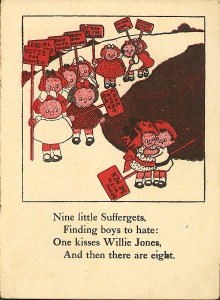 "Ten Little Suffergets" #9 — African Americans boycott segregated city buses in Baton Rouge, La. The June 1953 boycott, in which African Americans organized car pools to get around town, was the first of several bus boycotts during the civil rights movement.
#8 — A Civil War soldier pens a note to his mother in the margins of The New South newspaper. William S. Marston, from New Hampshire, writes: "Mother, I think you will be as well pleased to have me send you a New South and write on the margin that I am well, as you would be to have me write a long letter."
#7 — In a day that became known as Bloody Sunday, law enforcement officers use nightclubs and tear gas on hundreds of African Americans marching in support of voting rights in Alabama.  The March 7, 1965, incident attracts national attention to the cause and is considered a pivotal moment in the civil rights movement.
#6 — Anti-Islam ad on a San Francisco bus is defaced. Activists place a sticker reading "Hate Speech" over the text of an advertisement paid for by the  American Freedom Defense Initiative.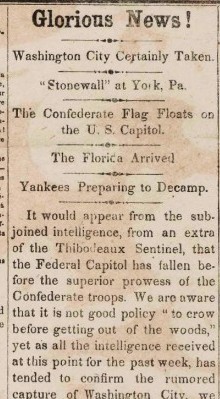 "The Confederate States" #5 — A handwritten newspaper in 1862 by students in Warren, Conn., reports on government plans to draft nine local men into the Union Army. "Many a mother's heart grew sick," the article reads, "and many a sister's cheek turned pale."
#4 — Jet magazine covers the Poor People's Campaign, a 1968 march in Washington after Martin Luther King Jr.'s death to lobby for fair wages for all working people.
#3 — Wait, this just in to our newsroom ...  The Philadelphia Inquirier's first edition on July 22, 1861,  heralds the Union Army's victory at Bull Run, or Manassas.  The newspaper failed to account for the decisive Confederate counterattack that began around the time the paper went to press. An "extra" edition later notes the Union Army loss.
#2 — First there were Ten Little Suffergets and then there were none — at least according to this children's booklet that features cute girl "suffergets" breaking away from the equal rights campaign one by one when they prefer other things, such as cake, boys and toys, or encounter misfortunes. And a Little Drummer Boy drumroll, please.
#1 — Confederate Army captures Washington, D.C.! Who knew?!  The Confederate States in New Iberia, La., published a story based on misinformation it received through word of mouth and another nearby newspaper. The report also claims that Confederate troops missed nabbing President Lincoln and his cabinet by only 10 minutes.