On the Road - Summer 2017 Conferences
Say "hi" to NewseumED staff at a variety of conferences this summer, where we'll be sharing our free resources on media literacy and the First Amendment.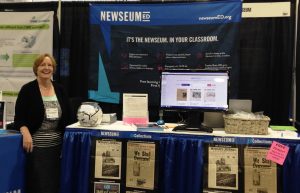 Amid times of controversy surrounding the news media, our educators are reaching beyond the Newseum walls to share resources for teaching media literacy and how to consume news critically. If you're planning to attend any of the following conferences, please stop by our exhibit booth and presentations to introduce yourself.
We are offering free tickets to the museum to those who stop by our exhibit at booth 1121. While you're at the conference, you can also attend "Believe It or Not: Teaching Media Literacy Should Include Wikipedia," where our educator will be joined by Wikipedia expert Andrew Lih in teaching tools to build media literacy skills. The session takes place  Wednesday, June 14, at 9:30 a.m. in room 147A.
We'll be connecting with innovative educators from across the globe in Texas to share information about our rich content for teachers and students. Join  us Monday, June 26, at 3 p.m. in room 302A for "Navigating NewseumED: Free Online Media Literacy and First Amendment Resources." You can also stop by our booth 628 in the Expo Hall to view our resources, get a free poster and device stand, and enter a raffle to win an Apple Watch Series 2.
Join us at 4:15 p.m. on Wednesday, June 28, when we will be moderating a panel at titled "Policy & Public Interest: A Call to Action," which will explore themes such as the relationship between media literacy education and the government.
We'll be sharing a booth with the Civics Renewal Network. Stop by booth 331 and pick up a free ticket to the Newseum when you sign up for NewseumED.
To align with the week's theme of "Media, News, and Ethics in the Digital Age," we will be offering five classes for adults and youth on fake news, media ethics, the speed of news, and what kinds of speech are and aren't protected by the First Amendment.