The Newseum's Mission
The Newseum champions the five freedoms of the First Amendment through exhibits, public programs and education.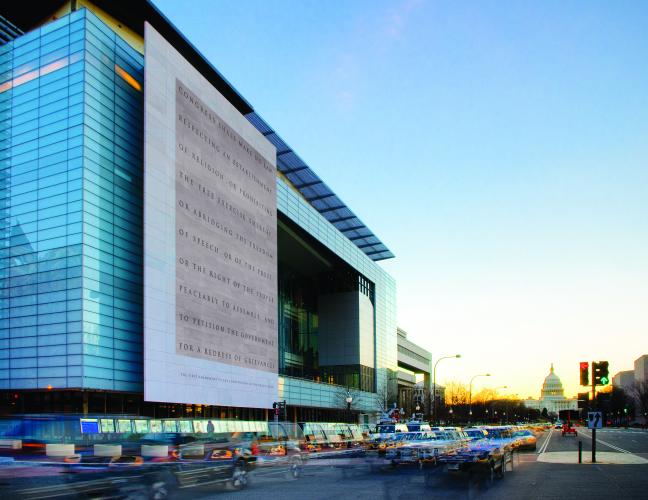 The mission of the Newseum, located in Washington, D.C., is to increase public understanding of the importance of a free press and the First Amendment. Visitors experience the story of news, the role of a free press in major events in history, and how the core freedoms of the First Amendment — religion, speech, press, assembly and petition — apply to their lives.
The interactive museum has seven levels with 15 galleries and 15 theaters. Exhibits include the 9/11 Gallery Sponsored by Comcast, which displays the broadcast antennae from the top of the World Trade Center; the Berlin Wall Gallery, whose eight concrete sections are one of the largest displays of the original wall outside Germany; and the Pulitzer Prize Photographs Gallery, which features photographs from every Pulitzer Prize–winning entry dating back to 1942.
The Freedom Forum Institute is the education and outreach partner of the Newseum, including the First Amendment Center, the Religious Freedom Center, the Newseum's education department (NewseumED), and Institute diversity and inclusion programs.
Featuring dramatic vistas of Washington, D.C., the Newseum has become one of the city's most sought-after venues for conferences, weddings, movie premieres and special events. Two state-of-the-art television studios host programs of all kinds, which are broadcast around the world each week.
The Newseum is a 501(c)(3) public charity funded by generous individuals, corporations and foundations, including its principal funder, the Freedom Forum.