Free Media Literacy and Civics Posters
Explore NewseumED's dynamic collection of educational posters — all in one place and all available to download. Spruce up your classroom, office or personal space while learning how to be a better media consumer and more informed citizen.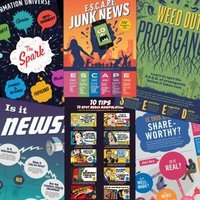 Our posters are designed to make media literacy and the First Amendment accessible to everyone — students and adults alike. They are easy to read and eye-catching. Topics range from propaganda to free speech to evaluating information to turning points in history.
Many of the posters have accompanying online lesson plans or resources. The links are below the photo gallery.
Additional Resources
You can find the lesson plans that accompany each of the posters here:
Print the backside of the following posters to get background information and/or lessons not found online: