October 2018 E-Newsletter
Published October 15, 2018
Get info on our newest EDCollections on media literacy and free speech essentials, our speaking trips abroad, a free professional development workshop in D.C., and more!
Bell Ringers for Media Lit Week; National History Day Resources
field trips   |    classes   |    tools   |    ideas   |    collections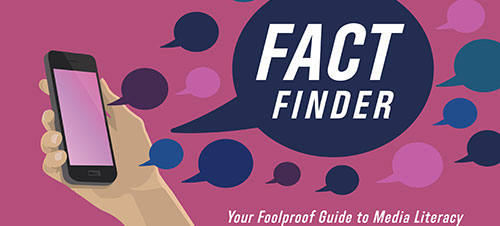 "I am so impressed with NewseumED and the drive and focus to teach about our First Amendment rights."
— Katie Leach, Pennsylvania educator
Newsroom to News Feed: All About Media Literacy
Are your students savvy searchers? Can they spot the difference between a straight news article and an opinion piece? Do they recognize bias in their sources ... or in themselves?

Tackle these challenges and more using 11 flexible, multimedia lesson plans in our newest EDCollection, Fact Finder: Your Foolproof Guide to Media Literacy, which debuted at our Teacher Open House earlier this month. Eight skill-building lesson plans introduce essential media literacy concepts through engaging explainer videos and colorful infographics that help students revisit, retain and apply the key concepts. The accompanying News or Noise? media map provides a collection of examples ready for students to analyze and evaluate with the support of worksheets and discussion prompts. Three reporting lesson plans help students take what they've learned and apply it to their own content creation, inspired by the issues that matter to them.
Openings in Free Media Literacy Workshop
There are still a few seats left in our "Real Media Literacy for a Fake News World" workshop for educators on Saturday, Nov. 3. This the first of two free professional development workshops, made possible through a generous grant from Wells Fargo. Each workshop includes breakfast, lunch, classroom materials, an archivist session and six hours of professional development. Attendees will explore the complexities of how information is created, spread and consumed. Register and get additional details here.
World Travels: Here, There and Everywhere
NewseumED is taking to the skies to join the global discussion on the importance of media and information literacy and to showcase our resources. Last week, Barbara McCormack, vice president of education, made six presentations in three days in Bangladesh. Among those in attendance: journalists, college students and faculty, government officials, diplomats, online activists and civil society members. "I was impressed with their commitment to educating the public on media literacy to help combat the spread of misinformation," McCormack said. In the coming weeks, NewseumED staff will travel to Bulgaria, Ukraine, Ecuador, Latvia, Lithuania and Poland for similar sessions.
Peeking Allowed
We'll be rolling out a new EDCollection on free speech later this year, but you can get a preview of our content now. Four case studies in Free Speech Essentials for Students are currently available that explore the foundations, flare-ups and frontiers of this First Amendment freedom. Each case study lesson plan comes with multiple primary sources, videos and photos. The cases center around a 1977 Nazi march in Skokie, Ill.; a planned Unite the Right rally in 2018; the 1788 debate over a bill of rights; and a 2009 lawsuit over whether a Facebook "like" is protected speech.
Follow Us on Social Media
If you aren't following us already on Twitter or Facebook, you'll want to during Media Literacy Week, Nov. 5-9. We'll be posting daily videos and short bell ringer activities featuring our E.S.C.A.P.E acronym for analyzing information. Follow us @NewseumED and Facebook. #MediaLitWk
2019 National History Day Resources
Our vast online collection of primary sources can be used by students for research and images as they create NHD projects around the theme of "Triumph and Tragedy." Check out our list of resources exploring this theme.
Follow NewseumED online!  Twitter  |  Facebook  |  Pinterest
555 Pennsylvania Ave., N.W.  |  Washington, D.C. 20001  |  © Newseum