2015: Bringing Down the Confederate Flag
How much access should protesters have to government grounds and buildings while trying to draw attention to their cause?
Get even more great free content!
This content contains copyrighted material that requires a free NewseumED account.
Registration is fast, easy, and comes with 100% free access to our vast collection of videos, artifacts, interactive content, and more.
Sign Up
?
NewseumED is provided as a free educational resource and contains copyrighted material. Registration is required for full access. Signing up is simple and free.
With a free NewseumED account, you can:
Watch timely and informative videos
Access expertly crafted lesson plans
Download an array of classroom resources
and much more!
Duration
Less than 30 minutes
Topic(s)
Civil Rights
Politics
Protests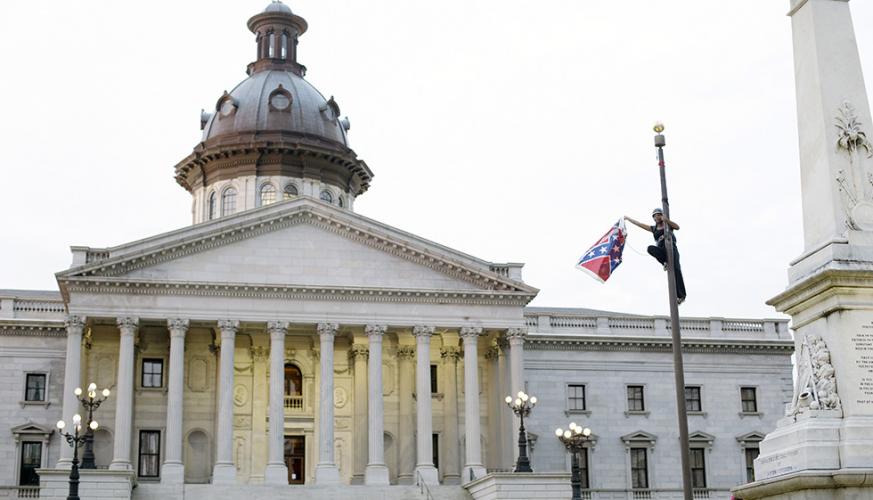 Looking Back: 9/11 Connections
Use the artifact viewer to explore the image below and discuss the following questions:
What happened/is happening in this image? What story does it tell?
How is this image connected to the events of Sept. 11, 2001?
How could you use this image to make an argument about the state of freedom in the U.S.? About national security?
To what extent should individuals have access to government grounds and buildings when seeking attention for a cause?
You are a state representative in a Southern state. A recent racially motivated mass murder has left your city and state in shock. The racist beliefs of the accused shooter have refocused attention on the Confederate flag, which currently flies alongside the state flag on the grounds of your capitol. Some see the flag as a symbol of hate; others as a symbol of Southern heritage.
The state legislature has agreed to consider whether the Confederate flag should be removed and has called a special session to debate and vote on the issue. In the meantime, both anti- and pro-flag protesters have organized demonstrations at the statehouse. Tensions are running high. You and a group of fellow representatives want to present recommendations for how these protests should be handled.
What guidelines do you support?
Allow the protesters controlled access to the statehouse.

The groups should have direct access to their legislators, but only in certain spaces and after passing security checks.

Allow the protesters to gather outside the statehouse.

The inside of the building should be off-limits so that legislators can safely carry out government business.

Allow the protesters to gather in fenced-in "free speech zones" in front of the statehouse.

This topic is very heated, and the protests should be carefully monitored.

Close the Capitol grounds to all protests until further notice.

This topic is too volatile.
Who should be allowed access to the state capitol grounds, and how should they be allowed to use this space?
Does it matter what the groups are protesting for/against?
Why do these groups want access to the statehouse for their protests? How much access is necessary to allow them to achieve their goals? How much access are you comfortable granting them?
What happens when multiple groups with opposing viewpoints protest? Should they be allowed to interact? Should police ever intervene?
What is civil disobedience? How is it different from a First Amendment-protected form of protest? When is it appropriate and/or necessary?
Have students use the Analyzing Evidence and Making Your Argument handouts to collect and organize additional information about the case, then form an argument supported by evidence. Give the groups 30 minutes to prepare, or assign as homework. (Note: Students may wish to organize their sources and evidence using a spreadsheet, such as Google Sheets.)
Common Core State Standards: CCSS.ELA-LITERACY.CCRA.SL.3

Evaluate a speaker's point of view, reasoning, and use of evidence and rhetoric.

Common Core State Standards: CCSS.ELA-LITERACY.CCRA.SL.4

Present information such that listeners can follow the line of reasoning and the organization, development, and style are appropriate to task, purpose, and audience.
NCSS C3 Framework: D4.1.6-8 and D4.1.9-12

6 - 8: Construct arguments using claims and evidence from multiple sources, while acknowledging the strengths and limitations of the arguments. 9 - 12: Construct arguments using precise and knowledgeable claims, with evidence from multiple sources, while acknowledging counterclaims and evidentiary weaknesses.
ISTE: 7d. Global Collaborator

Students explore local and global issues and use collaborative technologies to investigate solutions.
National Center for History in the Schools: NCHS.US History.Era 10

Standard 1: Recent developments in foreign policy and domestic politics Standard 2: Economic, social, and cultural developments in contemporary United States
Center for Civic Education: CCE.V

A. What is citizenship? B. What are the rights of citizens? C. What are the responsibilities of citizens? D. What civic dispositions or traits of private and public character are important to the preservation and improvement of American constitutional democracy? E. How can citizens take part in civic life?