2015: Flying a Petition to Congress
Should a newspaper notify authorities after learning of a man's plan to land a gyrocopter on the Capitol lawn to advocate for campaign finance reforms?
Get even more great free content!
This content contains copyrighted material that requires a free NewseumED account.
Registration is fast, easy, and comes with 100% free access to our vast collection of videos, artifacts, interactive content, and more.
Sign Up
?
NewseumED is provided as a free educational resource and contains copyrighted material. Registration is required for full access. Signing up is simple and free.
With a free NewseumED account, you can:
Watch timely and informative videos
Access expertly crafted lesson plans
Download an array of classroom resources
and much more!
Duration
Less than 30 minutes
Topic(s)
Media Ethics
Politics
Protests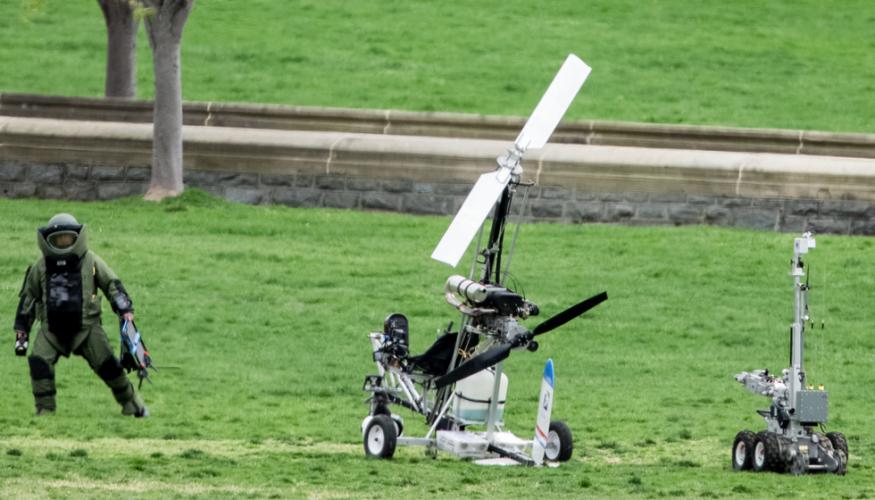 Looking Back: 9/11 Connections
Use the artifact viewer to explore the image below and discuss the following questions:
What happened/is happening in this image? What story does it tell?
How is this image connected to the events of Sept. 11, 2001?
How could you use this image to make an argument about the state of freedom in the U.S.? About national security?
What would you do if you found out about a planned protest that is illegal and could set off a mass panic?
You are a reporter at a prominent newspaper in Florida. A local postal worker contacts you about his plan to fly a gyrocopter through restricted airspace and land it on the U.S. Capitol grounds in Washington, D.C. He wants to draw attention to the need for new campaign finance laws by delivering letters to every member of Congress. He says the Secret Service has interviewed him twice and he wants you to tell his story and motivations.
You interview the man and take photos of his small homemade aircraft. He says he has no intention of hurting anyone or causing harm. You continue to stay in touch. Months later, he tells you his flight date is set.
What do you do?
Contact the authorities.

The planned protest is illegal and could cause a panic.

Write a story about the man's plans.

Maybe your story will prompt someone to talk him out of his plan or prompt authorities to act.

Wait to see how the story plays out.

The man has done nothing wrong yet, and the story may get more interesting.

Drive to Washington and begin reporting online and via social media as the man takes off.

Take advantage of this scoop. You can contact authorities to get a comment once he is airborne.

Something else.

Explain how you'd cover this story.
How can you be certain of the man's claim that he doesn't intend to harm anyone or anything?
Who has the most to gain or lose based on your decision?
If you don't notify authorities, are you complicit in a potential crime?
Why did the man contact you? What is your role in his plan? Do you feel comfortable with this role?
Is it ever effective or acceptable for a person to break the law when advocating for a cause?
Have students use the Analyzing Evidence and Making Your Argument handouts to collect and organize additional information about the case, then form an argument supported by evidence. Give groups 30 minutes to prepare, or assign as homework. (Note: Students may wish to organize their sources and evidence using a spreadsheet, such as Google Sheets.)
Common Core State Standards: CCSS.ELA-LITERACY.CCRA.SL.3

Evaluate a speaker's point of view, reasoning, and use of evidence and rhetoric.

Common Core State Standards: CCSS.ELA-LITERACY.CCRA.SL.4

Present information such that listeners can follow the line of reasoning and the organization, development, and style are appropriate to task, purpose, and audience.
NCSS C3 Framework: D4.1.6-8 and D4.1.9-12

6 - 8: Construct arguments using claims and evidence from multiple sources, while acknowledging the strengths and limitations of the arguments. 9 - 12: Construct arguments using precise and knowledgeable claims, with evidence from multiple sources, while acknowledging counterclaims and evidentiary weaknesses.
ISTE: 7d. Global Collaborator

Students explore local and global issues and use collaborative technologies to investigate solutions.
National Center for History in the Schools: NCHS.US History.Era 10

Standard 1: Recent developments in foreign policy and domestic politics Standard 2: Economic, social, and cultural developments in contemporary United States
Center for Civic Education: CCE.V

A. What is citizenship? B. What are the rights of citizens? C. What are the responsibilities of citizens? D. What civic dispositions or traits of private and public character are important to the preservation and improvement of American constitutional democracy? E. How can citizens take part in civic life?