1836: Anti-Slavery Talk 'Gagged' in Congress
Should Congress, in the name of preserving peace, pass a "gag rule" to prevent abolitionists from presenting anti-slavery petitions?
Get even more great free content!
This content contains copyrighted material that requires a free NewseumED account.
Registration is fast, easy, and comes with 100% free access to our vast collection of videos, artifacts, interactive content, and more.
Sign Up
?
NewseumED is provided as a free educational resource and contains copyrighted material. Registration is required for full access. Signing up is simple and free.
With a free NewseumED account, you can:
Watch timely and informative videos
Access expertly crafted lesson plans
Download an array of classroom resources
and much more!
Topic(s)
Civil Rights
Civil War
Politics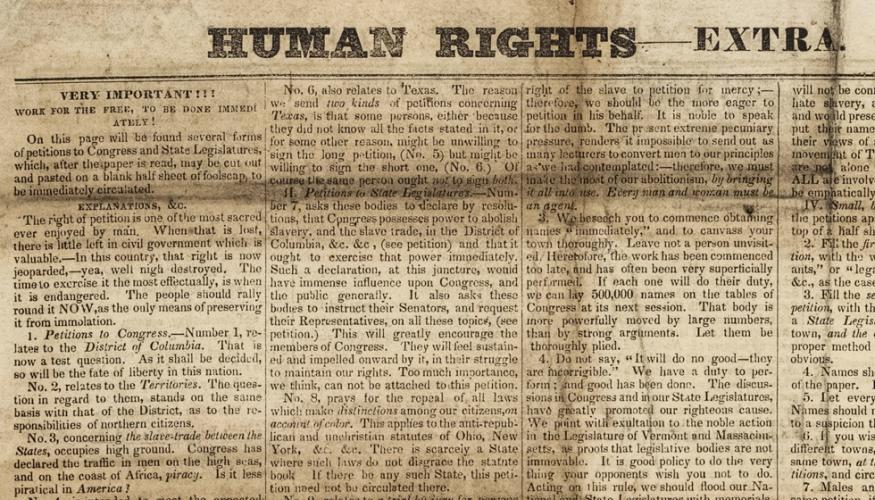 Pass out and read the Anti-Slavery Talk  case study scenario. Check for comprehension and ask students to identify the First Amendment freedom(s) at issue in this case.
Break your class into small groups and assign each group one of the people/perspectives. Hand out copies of the Organizing Evidence and Present Your Position worksheets. Give groups 30 minutes to look at the primary sources online and answer the worksheet questions.
Have each group present their position and arguments. Keep the gallery of case study resources on NewseumED.org open so students can refer to them as they explain their reasoning.
Historical case study handout, one per student (download)

Organizing Evidence and Present Your Position worksheets, one of each per group (download)

Case study primary sources (below)

NewseumED

 

Gag Rule Related Resources

 

Pinterest Board (optional)
Does freedom to petition include the right to raise controversial topics that may lead to violence?
In the 1830s, Nat Turner's Rebellion – which left nearly 60 white people dead in Virginia – has created widespread fear of further slave insurrections. The future of slavery is hotly debated in homes and in Congress. Representatives of Southern states defend slavery as a necessary and legal social and economic system, while anti-slavery representatives argue that it's time for the promise of liberty in the Declaration of Independence to be extended to all.
By 1836, Congress has been flooded with hundreds of petitions containing thousands of signatures for and against slavery. In the House, a group of abolitionists call for outlawing slavery in the District of Columbia. Southern representatives respond with a proposal to refuse to receive any petitions dealing with the subject of slavery. That proposal is too divisive and voted down, but then Reps. Martin Van Buren and Henry Pinckney offer a new version:
"Resolved, that all petitions, memorials, and papers touching the abolition of slavery or the buying, selling, or transferring of slaves in any state, district or territory of the United States be laid upon the table without being debated, printed, read or referred and that no further action whatever shall be had thereon."
Some see receiving but not discussing petitions as a reasonable compromise; others declare it an outrageous constitutional violation.
Take the role of a historical figure below and find evidence to argue your case.
Is refusing to read a petition the same as not allowing people to submit a petition? Why does this matter?
Should a history of violence affect reception of a petition? What about a threat of future violence?
Is the right of petition meaningful if the government doesn't have to respond?
Is there a difference between informally ignoring certain types of petitions and creating an official rule to treat them differently?
National Center for History in the Schools: NCHS.Historical Thinking.4

A. Formulate historical questions. B. Obtain historical data from a variety of sources. C. Interrogate historical data. D. Identify the gaps in the available records, marshal contextual knowledge and perspectives of the time and place. E. Employ quantitative analysis. F. Support interpretations with historical evidence.
National Council of Teachers of English: NCTE.1

Students read a wide range of print and non-print texts to build an understanding of texts, of themselves, and of the cultures of the United States and the world; to acquire new information; to respond to the needs and demands of society and the workplace; and for personal fulfillment. Among these texts are fiction and nonfiction, classic and contemporary works.
Center for Civic Education: CCE.II

A. What is the American idea of constitutional government? B. What are the distinctive characteristics of American society? C. What is American political culture? D. What values and principles are basic to American constitutional democracy?