Elijah Lovejoy: First American Martyr for the Press
Published February 7, 2017
Updated May 28, 2019
Get to know the man hailed as a defender of a free press and who may have inspired Abraham Lincoln's anti-slavery beliefs.
"Lovejoy's tragic death for freedom in every sense marked his sad ending as the most important single event that ever happened in the new world."   Abraham Lincoln in a letter to his friend Rev. James Lemen, March 2, 1857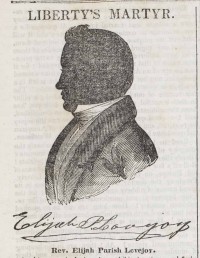 By Zoe Gibson, NewseumED intern
BACKGROUND
Elijah Parish Lovejoy was born in Albion, Maine, on Nov. 9, 1802. His father, Rev. Daniel Lovejoy, was a well known Presbyterian minister. In the 1820s, Lovejoy attended Waterville College — now Colby College — in Waterville, Maine. He gave the school's valedictory address when he graduated in 1826.
I am a senior at Colby College, so I have known of Lovejoy since I started college. One of the buildings on our campus is dedicated to Lovejoy and each year (since 1952) the college awards the Elijah Parish Lovejoy Award to a journalist who demonstrates integrity, craftsmanship, character, courage and intelligence. (See past recipients here.) However, even with this background knowledge, I did not realize how fascinating Lovejoy's history was until researching him for the Newseum. As you will read below, Lovejoy may be one of American history's best kept secrets.
EARLY PERIOD
After graduating from Waterville College, Lovejoy moved to nearby China, Maine, to become a teacher. After less than a year teaching in Maine, Lovejoy was relocated to Hillsboro, Ill., and then to St. Louis, Mo., where he served as a school teacher and wrote for a local newspaper. Lovejoy's time in St. Louis strengthened his religiosity and his antislavery views. As a result, he decided to return to the East Coast to attend Princeton Theological Seminary. After Princeton, Lovejoy moved back to St. Louis (in 1833) to preach and to write for The Saint Louis Observer, a Presbyterian weekly paper that focused on religious and moral education.
LOVEJOY MAKES ENEMIES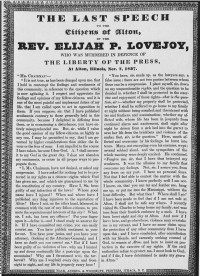 However, Lovejoy's writing was not well received by all of his neighbors in Missouri. In 1835, a group of prominent St. Louis men wrote a public letter calling for Lovejoy to tone down his antislavery editorials. He refused to comply. In fact, in 1836, Lovejoy published a grotesque account of the lynching of Francis McIntosh, a free African American. The violent event cemented Lovejoy's opinion that immediate universal emancipation was the only solution to the country's slavery problem.
In response to his blistering critiques of slavery and his candid editorials supporting abolition, Lovejoy faced repeated aggression by pro-slavery mobs. Despite the threat to his life and livelihood, Lovejoy refused to be silenced. Instead, he moved to Alton (in the free state of Illinois) and established the Alton Observer. Nonetheless, Lovejoy soon found that — even in a free state — he could not criticize slavery without consequence. On multiple occasions, mobs attacked and destroyed his printing presses. On Nov. 7, 1837, armed men stormed into the warehouse that held Lovejoy's fourth printing press. The mob demolished the press and then shot Lovejoy repeatedly. Two days later, Lovejoy was buried in an unmarked grave in Alton City Cemetery, on his 35th birthday.
The cruel circumstances of Lovejoy's death galvanized abolitionists across the country and he became a symbol for reformers. (Read newspaper coverage of his murder here, here and here). Many historians have pointed to his struggle as a microcosm for the battle against slavery and to his death as "the first casualty of the Civil War." History has also remembered Lovejoy as an ardent defender of the First Amendment freedom of the press. For this reason, Lovejoy is the first of 2,200-plus names on the Newseum's Journalists Memorial.
ABRAHAM LINCOLN'S IDOL?
One man who was inspired by the story of Lovejoy was a 28-year-old Illinois state representative, Abraham Lincoln. After Lovejoy's murder in Alton, many leaders in the state were silent. However, Lincoln, as a young politician, spoke out against the crime, saying, "Let every man remember that to violate the law, is to trample on the blood of his father, and to tear the charter of his own, and his children's liberty. … Let reverence for the laws be breathed by every American mother … in short let it become the political religion of the nation."
The unjust murder of Lovejoy seems to have been a seminal event in the formation of Lincoln's political views. Twenty years after Lovejoy's death — and before his ascent to the presidency — Lincoln wrote to his friend, Rev. James Lemen, reflecting, "Lovejoy's tragic death for freedom in every sense marked his sad ending as the most important single event that ever happened in the new world." (March 2, 1857).  He went on to say, "The madness and pitiless determination with which the mob steadily pursued Lovejoy to his doom, marks it as one of the most unreasoning and unreasonable in all time, except that which doomed the Savior to the cross."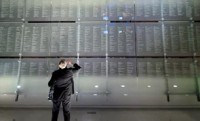 NEWSEUM'S JOURNALISTS MEMORIAL
The Newseum agrees with Lincoln's conclusion that Lovejoy was destined to "a felon's death and a martyr's crown." Because of his sacrifice, he is listed as the first entry on the Newseum's Journalists Memorial.
The memorial pays tribute to reporters, photographers and broadcasters who have died reporting the news. The names of over 2,200 individuals from around the world are etched on the glass panels of the soaring, two-story structure. To reflect the evolving nature of the memorial, the wall is rededicated each year to add the names of journalists who lost their lives on the job in the preceding year. In the museum, visitors can search kiosks for the biographies of the fallen journalists. The Newseum's website features a searchable database with the same information for those who aren't able to visit the museum.
MORE RESOURCES TO EXPLORE FREEDOM OF THE PRESS
Visit the Cox Enterprises First Amendment Gallery  at the Newseum to learn about the First Amendment freedoms of speech, press, religion, assembly and petition.
Book a free educator-led class at the Newseum or vitually for your school group on the First Amendment and related issues. 
Use Newseum-produced videos in your classroom. These documentaries feature primary source news footage and interviews with journalists and scholars, as well as accompanying lesson plans and viewing guides with questions for students. The videos range in subject matter from the early challenges to freedom of the press to the prestigious career and high ethical standards of broadcaster Edward R. Murrow to first-hand accounts of journalists covering the tragedy of 9/11 to the press and the civil rights movement.