1876: Religious Belief Challenges Marriage Law
Should the practice of polygamy be protected by the First Amendment free exercise clause?
Get even more great free content!
This content contains copyrighted material that requires a free NewseumED account.
Registration is fast, easy, and comes with 100% free access to our vast collection of videos, artifacts, interactive content, and more.
Sign Up
?
NewseumED is provided as a free educational resource and contains copyrighted material. Registration is required for full access. Signing up is simple and free.
With a free NewseumED account, you can:
Watch timely and informative videos
Access expertly crafted lesson plans
Download an array of classroom resources
and much more!
Topic(s)
Religious Liberty
Supreme Court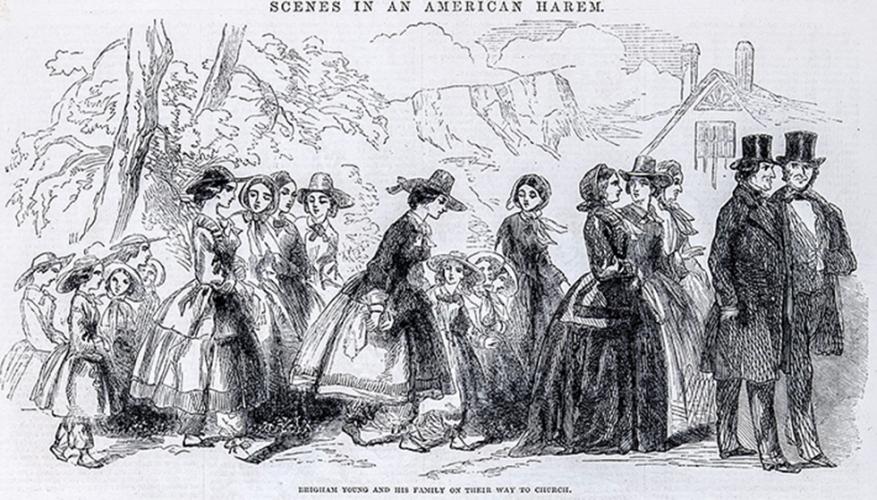 Pass out and read the Mormon Belief case study scenario. Check for comprehension and ask students to identify the First Amendment freedom(s) at issue in this case.
Break your class into small groups and assign each group one of the people/perspectives. Hand out copies of the Organizing Evidence and Present Your Position worksheets. Give groups 30 minutes to look at the primary sources online and answer the worksheet questions.
Have each group present their position and arguments. Keep the gallery of case study sources on NewseumED.org open so students can refer to the sources as they explain their reasoning.
Historical case study handout, one per student (download)

Organizing Evidence and Present Your Position worksheets, one of each per group (download)

Case study primary sources (below)

NewseumED 

Reynolds Related Resources

 

Pinterest Board (optional)
Can a religious group claim First Amendment protection for a practice that has been outlawed by Congress, if the practice is a part of its religious beliefs?
It's 1876. The Civil War is over, Reconstruction is underway, and Western territories are vying to attract settlers and join the Union. Among these is Utah, a territory founded on a settlement of Latter-day Saints, known as Mormons, fleeing conflict with communities in the East and Midwest.
Yet Congress and President Ulysses S. Grant are wary of granting Utah statehood. One source of conflict is the Mormon Church's control of the territorial legislature. Another is the Mormon practice of polygamy. Church doctrine commands men to marry more than one woman, but the Morrill Act of 1862 specifically outlaws it. When Grant sends federal troops to arrest men practicing polygamy, church leaders such as George Q. Cannon still encourage congregants to follow God's law. Congress is outraged at the disregard for federal law; the Mormons believe they are subjects of religious persecution.
Finally, Cannon and the U.S. attorney general strike a deal to end the stalemate and agree to send a test case to the courts.
Take the role of a historical figure below and find evidence to argue your case.
?

Library of Congress, Prints & Photographs Division

Polygamy is part of a larger effort to elevate church doctrine and governance over the federal government, which is treason and must be stopped.

"In Utah there still remains a remnant of barbarism, repugnant to civilization, to decency, and to the laws of the United States. … Neither polygamy nor any other violation of existing statutes will be permitted within the territory of the United States."

Religious beliefs must not interfere with public good. Monogamy is the basis of civilized society; polygamy is the basis of barbarism.

Monogamy "is one of the pre-existing conditions of our existence as civilized white men, as much as our being moral entities is a pre-existing condition of the idea of law, or of the possibility of a revelation. Strike it out, and you destroy our very being."

?

Library of Congress, Prints & Photographs Division

Polygamy is a private religious belief. Even though it is against federal law, it is God's law and morally acceptable. Therefore, polygamy is protected by the First Amendment.

Polygamy "is an artificial crime, created by legislative enactment, and involving, which practiced as a religious duty, no moral guilt."
Is there a difference between a religious belief and practice?
How do you decide if a religious belief or action is a private or public matter?
What if a religious practice causes physical harm to others? Psychological harm?
Who gets to decide if a religious practice is harmful or not?
Does it matter if the religious practice is tied to a political agenda?
National Center for History in the Schools: NCHS.Historical Thinking.4

A. Formulate historical questions. B. Obtain historical data from a variety of sources. C. Interrogate historical data. D. Identify the gaps in the available records, marshal contextual knowledge and perspectives of the time and place. E. Employ quantitative analysis. F. Support interpretations with historical evidence.

National Center for History in the Schools: NCHS.US History.Era 3

Standard 1: The causes of the American Revolution, the ideas and interests involved in forging the revolutionary movement, and the reasons for the American victory Standard 2: The impact of the American Revolution on politics, economy, and society Standard 3: The institutions and practices of government created during the Revolution and how they were revised between 1787 and 1815 to create the foundation of the American political system based on the U.S. Constitution and the Bill of Rights
Center for Civic Education: CCE.II

A. What is the American idea of constitutional government? B. What are the distinctive characteristics of American society? C. What is American political culture? D. What values and principles are basic to American constitutional democracy?