1894: Coxey's Army Tests Limits on Protest
Do freedom of assembly and petition apply when Jacob Coxey leads an "army" of unemployed men to the U.S. Capitol to protest economic policies?
Get even more great free content!
This content contains copyrighted material that requires a free NewseumED account.
Registration is fast, easy, and comes with 100% free access to our vast collection of videos, artifacts, interactive content, and more.
Sign Up
?
NewseumED is provided as a free educational resource and contains copyrighted material. Registration is required for full access. Signing up is simple and free.
With a free NewseumED account, you can:
Watch timely and informative videos
Access expertly crafted lesson plans
Download an array of classroom resources
and much more!
Topic(s)
Constitution
Politics
Protests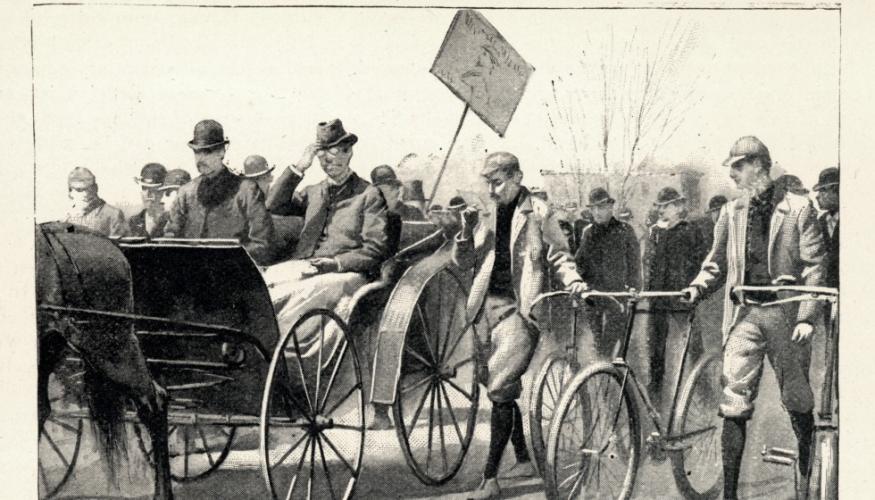 Pass out and read the Coxey's Army case study scenario. Check for comprehension and ask students to identify the First Amendment freedom(s) at issue in this case.
Break your class into small groups and assign each group one of the people/perspectives. Hand out copies of the Organizing Evidence and Present Your Position worksheets. Give groups 30 minutes to look at the primary sources online and answer the worksheet questions.
Have each group present their position and arguments. Keep the gallery of case study resources on NewseumED.org open so students can refer to them as they explain their reasoning.
Historical case study handout, one per student (download)

Organizing Evidence and Present Your Position worksheets, one of each per group (download)

Case study primary sources (below)

NewseumED 

Coxey's Army Related Resources

 Pinterest Board (optional)
Should the government limit protesters' access to the U.S. Capitol, where their elected representatives conduct business?
In 1894, the United States is facing a serious economic depression with 18 percent unemployment and businesses failing. President Grover Cleveland remains firm in his belief that the government should not fund social or economic aid programs.
Jacob Coxey, a wealthy Ohio businessman, disagrees and wants the government to fund projects such as road building to hire the unemployed. He announces a plan for his followers, whom he calls the "Industrial Army," to march to Washington to deliver their proposals directly to Congress.
About 500 men eventually arrive in the District of Columbia – far fewer than the 100,000 Coxey had predicted. The group, which becomes known as Coxey's Army, marches to the U.S. Capitol, where Coxey attempts to deliver a speech from the steps. Before he can finish, police remove him and his followers. Police cite an 1882 law that bans giving speeches or carrying signs on the Capitol grounds in order to preserve the "quiet and dignity of the Capitol of the United States."
Coxey is arrested, and the nation debates the tactics of Coxey's Army. Some congressmen and newspaper editorials express gratitude that the peace and order at the Capitol has been preserved. Others rush to defend Coxey's actions as a valid form of petitioning the government.
Take the role of a historical figure below and find evidence to argue your case.
Did this gathering interfere with government business?
Did this gathering harm the dignity of the U.S. Capitol?
Could Coxey's Army have used other methods to make their point? Besides assembling at the U.S. Capitol, how else can you effectively petition the government?
Should there be restrictions on assemblies and speeches on the U.S. Capitol grounds? If yes, what restrictions do you support? If no, why not?
National Center for History in the Schools: NCHS.Historical Thinking.4

A. Formulate historical questions. B. Obtain historical data from a variety of sources. C. Interrogate historical data. D. Identify the gaps in the available records, marshal contextual knowledge and perspectives of the time and place. E. Employ quantitative analysis. F. Support interpretations with historical evidence.

National Center for History in the Schools: NCHS.US History.Era 3

Standard 1: The causes of the American Revolution, the ideas and interests involved in forging the revolutionary movement, and the reasons for the American victory Standard 2: The impact of the American Revolution on politics, economy, and society Standard 3: The institutions and practices of government created during the Revolution and how they were revised between 1787 and 1815 to create the foundation of the American political system based on the U.S. Constitution and the Bill of Rights
Center for Civic Education: CCE.II

A. What is the American idea of constitutional government? B. What are the distinctive characteristics of American society? C. What is American political culture? D. What values and principles are basic to American constitutional democracy?