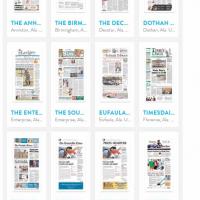 Front Page Photographs: Analyzing Editorial Choices
Four activities use the Newseum's Today's Front Pages to show how a photo can say as much about a newspaper and its community as it does about the day's news.
Get even more great free content!
This content contains copyrighted material that requires a free NewseumED account.
Registration is fast, easy, and comes with 100% free access to our vast collection of videos, artifacts, interactive content, and more.
Sign Up
?
NewseumED is provided as a free educational resource and contains copyrighted material. Registration is required for full access. Signing up is simple and free.
With a free NewseumED account, you can:
Watch timely and informative videos
Access expertly crafted lesson plans
Download an array of classroom resources
and much more!
Duration
Less than 30 minutes
Topic(s)
Current Events
Journalism
A front page, and the photographs and images chosen for the front page, can reveal as much about a newspaper and its community as it does about the day's news. Some days, one story dominates front pages across the country or even around the world. But often the stories on Page One reflect communities with different interests. Likewise, the images chosen for front pages reflect the values and views of the diverse communities from which these papers come.
More than 800 newspapers transmit their front pages electronically to the Newseum every day. All the front pages received each day are available online at newseum.org/todaysfrontpages. These front pages can be used in your classroom in a variety of ways.
Following are four easy activities, with some questions to ask when considering the photographs on the front pages of newspapers.
Access to the Newseum's online gallery "Today's Front Pages"    
Copies of paper newspapers (optional)      
Look at images from around the country when a big story breaks or when there are major developing stories, such as elections, sports championships, major legislation, natural disasters or impending storms. Print out a variety of front pages from small, medium and large cities and discuss as a class the images that were chosen for the story in different places.
Select a "sister" community to follow for a week or longer through their front pages. Consider choosing a community that is markedly different from that of your students — rural/urban, suburban/rural, large/small, North/South/East/West, etc. Each day, print out the front pages from your sister city and compare them with the front pages of your local newspaper. Then, discuss:
How are the images similar? How are they different?
How many photographs are on each front page?
Are the photographs about local, national or international news?
What can these photographs tell us about what this community's values?
If you and your students live in a community with more than one daily paper, conduct a weeklong (or longer) analysis of what each paper covers through photographs. Either print out the front pages from the Newseum website or purchase the papers for a week. Some newspapers will donate copies of their papers for classroom use. Be sure to focus on the images each paper selected for similar stories.
Bring in or download newspapers from a week or more and post them around the room. Ask students, individually or in pairs, to review each page and to write a quick summary of a selected story. After some students have shared their summaries, write the key elements of the story on the board. Discuss:
Which of the front pages do they find most interesting? Is this because of the headlines, topics covered, content of the stories, layout or photographs?
Which front page has the best photograph?
What qualities make this the best photograph?
The front page photograph should be a "good" picture technically and should convey an accurate message. The photograph and its caption should help to tell the story just as the headline and lead summarize it. The role of photography should not be underestimated.
Select one of the front page photographs. Read the story that accompanies it.
Ask students to write a quick summary of the story.
After some students have shared their summaries, write the key elements of the story on the board.
Read the caption and look at the photograph. Does the caption "restate" the summary or does it communicate another element of the whole story?
How does the photograph tell the story? Add dimension to the text?
Supply an emotional element to the story?
Common Core State Standards: CCSS.ELA-LITERACY.CCRA.R.1

Read closely to determine what the text says explicitly and to make logical inferences from it; cite specific textual evidence when writing or speaking to support conclusions drawn from the text.

Common Core State Standards: CCSS.ELA-LITERACY.CCRA.SL.1

Prepare for and participate effectively in a range of conversations and collaborations with diverse partners, building on others' ideas and expressing their own clearly and persuasively.
ISTE: 3b. Knowledge Constructor

Students evaluate the accuracy, perspective, credibility and relevance of information, media, data or other resources.

ISTE: 3d. Knowledge Constructor

Students build knowledge by actively exploring real-world issues and problems.
National Council of Teachers of English: NCTE.7

Students conduct research on issues and interests by generating ideas and questions, and by posing problems. They gather, evaluate, and synthesize data from a variety of sources (e.g., print and non-print texts, artifacts, people) to communicate their discoveries in ways that suit their purpose and audience.