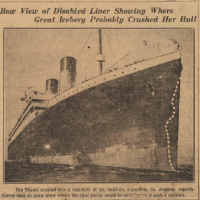 Media Mix-Ups Through History: Analyzing Historical Sources
No matter how careful they may be, journalists inevitably make mistakes. In this activity, students use the E.S.C.A.P.E. strategy to closely analyze a historical source, shedding light on why errors happen and drawing comparisons to today's flawed news stories.
Oh no, you're missing out on great content!
This content contains copyrighted material that requires a free NewseumED account.
Registration is simple — and comes with full access to videos, artifact, interactives, shareable content, and more.
Sign Up
?
NewseumED is provided as a free educational resource and contains copyrighted material. Registration is required for full access. Signing up is simple and free.
Once you create a free account, 
you'll have access to:
Downloads
Videos and Artifacts
Interactives
and more!
Topic(s)
Civil War
Elections
Journalism
As a class, make a list of reasons why news reports sometimes get facts wrong. Possible ideas: deadline pressure, limited manpower, sloppiness, biases leading to bad judgment, poor communication, bad information from sources, assumptions, etc. Explain that it's important to accept that journalists will sometimes make mistakes, but that doesn't mean we should accept sloppy reporting or allow news organizations to hide or ignore their failings. Getting it right is one of the core values of good journalism, and it's partly up to us as consumers to hold the media accountable.
Hand out the Media Mix-Ups Through History worksheet and assign students one of the historical sources in the gallery on this page to analyze. They may work in teams, pairs or individually. You may choose to go over the E.S.C.A.P.E. Junk News poster to prepare students to employ its six ways to analyze an artifact: evidence, source, context, audience, purpose and execution.
When students have completed their worksheet, look at the historical sources in the gallery as a class and briefly explain what each one is. Then, present contemporary examples to the class for comparison and discuss the questions below.
Copies of the Media Mix-Ups Through History worksheet (download), one per student
Access to the gallery of historical sources on this page (either printed copies or via devices) 
Contemporary examples of flawed reporting (possible examples can be found in the "Problematic" section of the Examples for Evaluating Online News download, or by searching for stories with published corrections) 
E.S.C.A.P.E. Junk News poster (for reference, optional download) 
Consider each example. What did it get wrong? Can you tell why this error happened?
What (if any) consequences do you think these errors could have had in the real world?
Could readers at the time of these articles have known that they were flawed? If so, how? If not, do you think they ever received the correct information?
Which of these errors could have been avoidable? How? Were any of them unavoidable? Why?
Why is it important to recognize mistakes when looking at historical sources? Why is it important when looking at present-day media?
How are these examples of errors in the news the same as/different from the mistakes we see today?
Common Core State Standards: CCSS.ELA-LITERACY.CCRA.R.1

Read closely to determine what the text says explicitly and to make logical inferences from it; cite specific textual evidence when writing or speaking to support conclusions drawn from the text.

Common Core State Standards: CCSS.ELA-LITERACY.CCRA.R.2

Determine central ideas or themes of a text and analyze their development; summarize the key supporting details and ideas.

Common Core State Standards: CCSS.ELA-LITERACY.CCRA.SL.1

Prepare for and participate effectively in a range of conversations and collaborations with diverse partners, building on others' ideas and expressing their own clearly and persuasively.

Common Core State Standards: CCSS.ELA-LITERACY.CCRA.SL.2

Integrate and evaluate information presented in diverse media and formats, including visually, quantitatively, and orally.

Common Core State Standards: CCSS.ELA-LITERACY.CCRA.W.1

Write arguments to support claims in an analysis of substantive topics or texts using valid reasoning and relevant and sufficient evidence.
NCSS C3 Framework: D2.His.4.6-8 and D2.His.4.9-12

6 - 8: Analyze multiple factors that influenced the perspectives of people during different historical eras. 9 - 12. Analyze complex and interacting factors that influenced the perspectives of people during different historical eras.  
ISTE: 3b. Knowledge Constructor

Students evaluate the accuracy, perspective, credibility and relevance of information, media, data or other resources.
National Council of Teachers of English: NCTE.1

Students read a wide range of print and non-print texts to build an understanding of texts, of themselves, and of the cultures of the United States and the world; to acquire new information; to respond to the needs and demands of society and the workplace; and for personal fulfillment. Among these texts are fiction and nonfiction, classic and contemporary works.