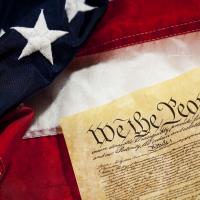 Build Your Political Platform
In this activity, students learn about political platforms, then identify social and political issues they care about to create planks for their own political platform.
Get even more great free content!
This content contains copyrighted material that requires a free NewseumED account.
Registration is fast, easy, and comes with 100% free access to our vast collection of videos, artifacts, interactive content, and more.
Sign Up
?
NewseumED is provided as a free educational resource and contains copyrighted material. Registration is required for full access. Signing up is simple and free.
With a free NewseumED account, you can:
Watch timely and informative videos
Access expertly crafted lesson plans
Download an array of classroom resources
and much more!
Topic(s)
Current Events
Elections
Politics
Share this excerpt from the Supreme Court decision in Evenwel v. Abbott (2016): "As the Framers of the Constitution and the Fourteenth Amendment comprehended, representatives serve all residents, not just those eligible to vote. Nonvoters have an important stake in many policy debates and in receiving constituent services."
Discuss how government decisions impact voters and nonvoters. Then consider ways students can advocate for causes before they are eligible to vote. (Tweet your representative, sign an online petition, etc.)
Explain that they will identify issues they care about. Tell students: your ultimate goal is to make their representatives – and presidential candidates – know what they need to do to serve you.
Ask students to define a political party plank (a statement that shows your position on a social or political issue). Seek examples they've heard about in recent or current election cycle. Examples include:

Increase funding for job training and placement services for military personnel to help them find jobs after they leave the service.
Strengthen background checks for those purchasing a firearm to decrease gun violence.

Distribute and complete the worksheet.
Build Your Political Platform worksheet (download), one per student or pair of students.
In small groups or as a class, ask students to share and discuss their platforms. Prompts include:
Which platforms did you find most persuasive?
What choices did the authors make that were especially effective?
What issues were most and least common? Ex: economy, immigration, etc.
Common Core State Standards: CCSS.ELA-LITERACY.CCRA.SL.4

Present information such that listeners can follow the line of reasoning and the organization, development, and style are appropriate to task, purpose, and audience.
ISTE: 6d. Creative Communicator

Students publish or present content that customizes the message and medium for their intended audiences.

ISTE: 7c. Global Collaborator

Students contribute constructively to project teams, assuming various roles and responsibilities to work effectively toward a common goal.

ISTE: 7d. Global Collaborator

Students explore local and global issues and use collaborative technologies to investigate solutions.
Center for Civic Education: CCE.I

A. What is civic life? What is politics? What is government? Why are government and politics necessary? What purposes should government serve? B. What are the essential characteristics of limited and unlimited government? C. What are the nature and purposes of constitutions? D. What are alternative ways of organizing constitutional governments?

Center for Civic Education: CCE.V

A. What is citizenship? B. What are the rights of citizens? C. What are the responsibilities of citizens? D. What civic dispositions or traits of private and public character are important to the preservation and improvement of American constitutional democracy? E. How can citizens take part in civic life?