Resources For Promoting Dialogue Post-Election 2016
Published November 9, 2016
NewseumED offers 14 teacher resources for constructive classroom conversations after the anger, angst and roaring rhetoric of this historic presidential race.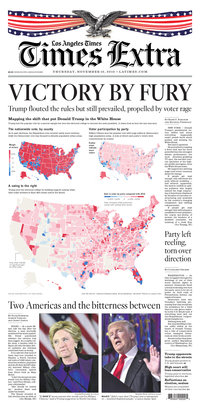 Political pundits, media experts and average Americans will spend countless hours and weeks analyzing what fueled Donald Trump's stunning upset in the 2016 presidential election. Just as students were aware of the divisiveness and dirt of the long campaign, they also will be exposed to the dissection of the results. Instead of flinging blame or disparaging the beliefs of the other half of the electorate, NewseumED advocates constructive conversations about how democracy works. Our political system, bolstered by the First Amendment, entitles everyone to have a voice and to be heard.
"The election once again showed the power of our core freedoms under the First Amendment: protecting our freedom to speak, write, assemble and seek change in the most powerful institutions of the nation," says Gene Policinski, senior vice president of the Newseum Institute's First Amendment Center.
NewseumED believes that furthering civic education has the power to improve our schools, communities and our democracy. The 2016 election that divided the nation can be an entry point in your conversation with students: Respect the institution, make room for diverse perspectives, arm yourself with tools to be informed, and make your voice heard.
Below is a list of relevant post-election resources and lesson plans that you can use in the classroom. Resources are divided into three categories: media literacy, historical connections, and civics and citizenship.
(To access some of these resources, you must be signed into NewseumED; registration is free.)
Teachers Guide to Controversial Topics
Media Literacy Resources
Historical Connections
Civics and Citizenship
Lesson Plan: "Civil Rights: The Five Freedoms"

Teach students how they can use the First Amendment to take effective action on an issue they care about.

Lesson Plan: "The Tools to Persuade"

Teach students how to persuade others to join their cause/shape public policy (effective use of free expression).

Register to vote!

Use this tool to make sure your opinion is counted in upcoming local, state and national elections and political decisions.